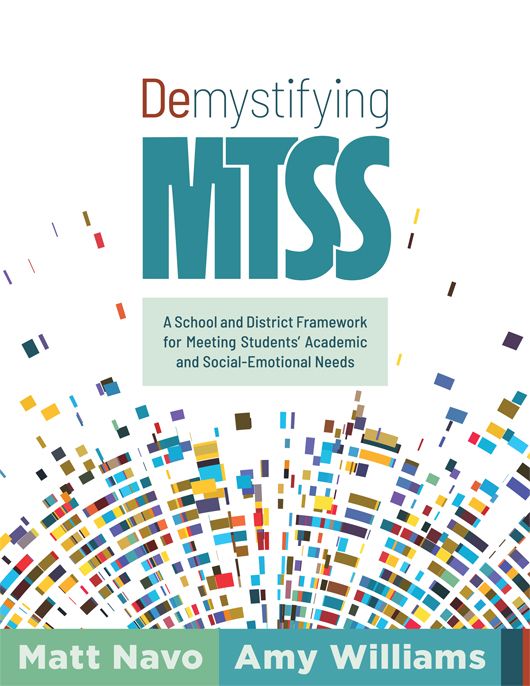 A School and District Framework for Meeting Students' Academic and Social-Emotional Needs
From research to experience, authors Matt Navo and Amy Williams offer a doable framework for multitiered system of supports (MTSS) that supports every student's diverse needs. This pragmatic approach gives collaborative leadership teams the tools to implement sustainable processes to address the whole child.
Add this eBook to your credit card purchase and gain immediate access.
eBooks are available on desktop, Android, and iOS via Adobe Digital Editions. eBook purchases are limited to one eBook per title, per account. Please visit the eBook FAQ for more information.
Publication date:
Only %1 left
Your essential guide for implementing a customizable framework for multitiered system of supports
Demystifying MTSS distills all the complex elements of multitiered system of supports into a customizable framework built around four components: collaborative leadership, universal access, a continuum of tiered supports, and data-based decision making. Drawing from research and their experience in building and sustaining effective MTSS, the authors share high-leverage, practical actions school improvement teams can take to ensure all students' diverse needs are met.
School improvement teams will:
Examine the four components of the MTSS framework and how they integrate to form a cohesive approach
Discover how to design and implement high-quality MTSS throughout your school and district
Learn how to build optimal building- and district-level teams that move beyond traditional leadership roles to include a variety of practitioners
Explore how to most effectively engage in cycles of continuous improvement as collaborative teams to ensure learning for all
Receive reproducible tools and templates to develop and evaluate MTSS systems
Related Topics
Classroom Management & BehaviorDifferentiated InstructionResponse to InterventionSchool ImprovementSocial-Emotional Learning and Wellness
---
Additional Information
Product Code: BKF984, EKF547
ISBN: 9781951075699
Published By: Solution Tree
Page Count: 168
"Matt Navo and Amy Williams have written a much-needed text related to MTSS in school settings. Their work helps bridge the gap between MTSS and school improvement strategies. Their approach will assist school teams in seeing MTSS as 'just how we do business' instead of 'just one more thing' to do on an already full plate."
"This book clarifies the many components needed to develop a robust MTSS framework and sparks the necessary discussions to design a strong system with tiered support for academic, behavioral, and social-emotional learning. Readers can use the examples, case studies, and component audit tools to reflect on current practices and determine next steps. No matter where an organization may be in its development of a systematic MTSS model, this book provides a clear suggestion for where to begin and a pathway for moving forward."
"Navo and Williams provide a clear description of the MTSS system and a comprehensive set of tools that will support any district in transforming its systems into ones that build on student assets and meet the needs of every student through all aspects of a district system. Their practitioner lens and extensive experience in MTSS meets educators where they are and gives a clear road map that lays out where to go and where to continue to grow into a system that all educators would be proud to have their own students attend."
"This is a must-have resource for anyone that wants to better support students. Navo and Williams have not only demystified the MTSS process—they have provided clarity and a framework to be utilized at any level. . . . The resources and tools are practical and efficacious in addressing the rapidly changing needs found in our schools."
"Matt Navo and Amy Williams have produced a highly readable and well-researched update of the process of implementing MTSS with UDL for educators. It is a welcome addition to the small base of solid how-to-do-it books available to teachers and administrators."
Free Resources
Explore these powerful tools to help reach your goals.