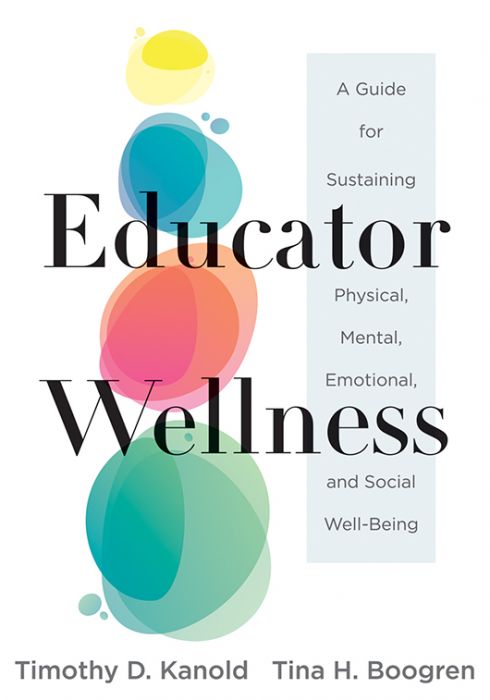 Educator Wellness
A Guide for Sustaining Physical, Mental, Emotional, and Social Well-Being
Educator and teacher self-care can be challenging, but embracing a holistic health and wellness plan can improve your physical, mental, emotional, and social well-being both inside and outside of school. This reflective journal provides the ideas and guidance you need to support you on your wellness journey.
Publication date:
Only %1 left
Actionable steps for self-care, health, and wellness for teachers and educators
Educator and teacher wellness is a personal journey. And like all journeys, there are starts, stops, and bumps in the road. The question becomes, how do we bring our best selves to our students and colleagues each day? Designed as a reflective journal and guidebook, Educator Wellness by Timothy D. Kanold and Tina H. Boogren will take you on a deep exploration where you will uncover profound answers that ring true for you.
Rely on this book of ideas for self-care for educators and develop ongoing habits for wellness:
Use this resource on your own or as a book study to guide staff through a reflective, goal-setting process.
Observe the importance of self-care for teachers and other educators and how a commitment to daily self-care and well-being leads to a more fulfilling, successful life in and outside of the school setting.
Review the four dimensions of educator self-care and wellness—(1) physical, (2) mental, (3) emotional, and (4) social—and 12 corresponding routines.
Explore self-care activities for teachers and educators to sustain well-being in the face of workplace overload and potential burnout.
Use the My Wellness Action journaling spaces designed to encourage thoughtful reflection to wellness and self-care plans for teachers and educators.
Learn how to monitor your self-care progress and design an actionable wellness plan for next steps.
View videos that highlight the authors' personal experiences with the four dimensions of educator or teacher well-being.
Access the Educator Wellness—Rating, Reflecting, Planning, and Goal-Setting protocol.
Related Topics
Educator WellnessLeadershipProfessional Learning Communities at Work®Social-Emotional Learning and WellnessTeacher Efficacy
---
Additional Information
Product Code: BKG053, EKF615
ISBN: 9781954631090
Published By: Solution Tree
"Kanold and Boogren manage to gently weave the importance of educator wellness into the educational arena, peeling back the layers of humanness and the interconnectedness that bind both student and educator in heart and suffering. The capacity for educators to build a sense of agency is carefully crafted through exploration of four dimensions—physical, mental, emotional, and social wellness—and through self-care, self-compassion and reflection practices that are paramount for being at our best and finding balance in unprecedented times of challenge and stress."
"This book will change your life. The interactive workbook format will set you on an active path to adopting new, healthy habits. This transformative power of understanding wellness at the granular level will propel you to success in living your best life at home and in the classroom. Dr. Kanold and Dr. Boogren will motivate you to carve out space in your daily routine to achieve your best self. Go ahead, superstar educator: open up this book and start living your best life now."