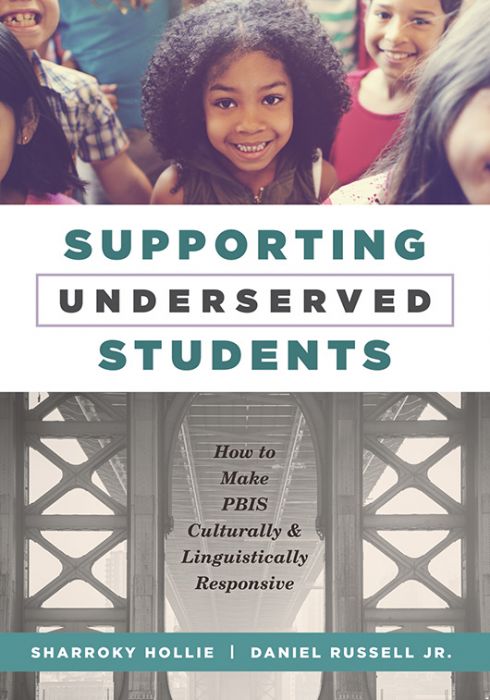 Supporting Underserved Students
How to Make PBIS Culturally and Linguistically Responsive
Discover a clear two-step roadmap for uniting PBIS strategies with culturally and linguistically responsive teaching and learning in your classroom, school, or district.
Publication date:
Only %1 left
PBIS-compatible resources for culturally and linguistically responsive teaching
Enhance your positive behavioral interventions and supports (PBIS) to do what's best for all students. With this equity-focused guide by Sharroky Hollie and Daniel Russell, Jr., you will discover a clear roadmap for aligning PBIS with cultural and linguistic responsiveness (CLR). Dive deep into why there is an urgent need for this alignment and then learn how to move forward to better serve your learners, especially those from historically underserved populations.
Integrate culturally and linguistically responsive teaching with your PBIS strategies:
Learn where PBIS falls short and why issues around discipline persist, especially with Black and Brown students.
Gain clarity around culturally and linguistically responsive (CLR) teaching strategies in the classroom.
Understand the difference between authentic and inauthentic CLR alignment to PBIS.
Acquire practical steps, suggestions, and recommendations for being culturally and linguistically responsive in the classroom as well as across schools and districts.
Give students the language, activities, and procedures to be situationally appropriate for school situations affected by PBIS in the classroom.
Related Topics
Classroom Management & BehaviorDiversity & EquityResponse to Intervention
---
Additional Information
Product Code: BKG010, EKF572
ISBN: 9781952812293
Published By: Solution Tree
"In Supporting Underserved Students, the authors skillfully share the history, theory, and intentions connected to PBIS implementation. This comprehensive analysis reveals the gaps and missteps that often lead to only incremental improvements or worse, unintended negative consequences for historically underserved students. In response, this resource outlines carefully crafted strategies and steps to implement culturally responsive practices that meet the needs of all students in our schools."
"Intervention methodology that preserves cultural and linguistic integrity, and ensures enhanced academic outcomes for students of color, is a non-negotiable in today's civic and educational environments. Supporting Underserved Students is a persuasive and illuminating treatise on the importance of aligning cultural and linguistic responsiveness with positive behavioral interventions and supports (PBIS), and should be mandatory reading for all educators in schools employing PBIS. Kudos to authors Hollie and Russell for this leading-edge exposition!"
"In Supporting Underserved Students, authors Hollie and Russell provide a trenchant analysis of PBIS, identifying both its strengths and shortcomings, to further the work of equitable and culturally responsive practices for underserved students. They offer strategies for reimagining and practicing PBIS in ways that are more complete and inclusive, and inspire educators to create school spaces where all students are validated and affirmed, honored, and supported to reach their limitless potential."