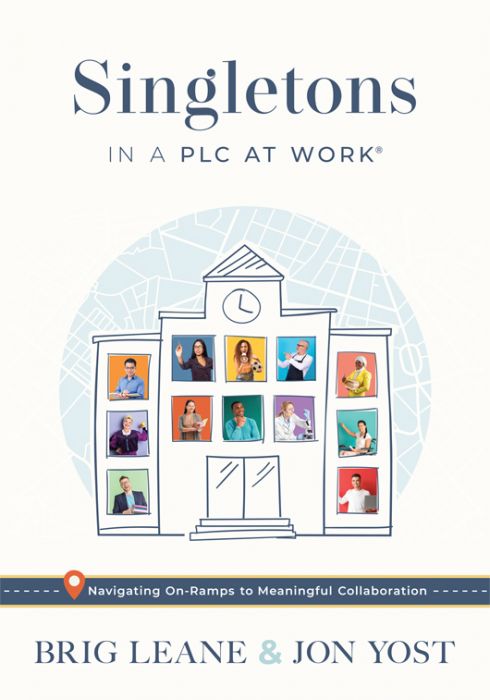 Singletons in a PLC at Work®
Navigating On-Ramps to Meaningful Collaboration
Collaboration among teachers is key for school improvement and student success. Most teachers will collaborate in grade-level or course-alike teams in a PLC, but what about singletons—those teachers who do not have grade-level or course-alike peers? In this resource, singleton teachers will find creative entry points to form meaningful collaborative teams.
Publication date:
Only %1 left
Practical strategies for eliminating teacher isolation and embracing meaningful collaborations
In a professional learning community, isolation is the enemy of school improvement. But what does collaboration among teachers look like when you can't easily identify with a team? This book will help singleton teachers first develop clarity on learning essentials, then find creative entry points to form collaborative teams. Drawing from their own experiences, the authors offer practical solutions for eliminating the practice of isolation for all educators.
Collaborative teams will:
Understand what meaningful collaboration is and how singletons can utilize the PLC process
Build the groundwork for meaningful collaboration using strategies for your specific situation
Implement meaningful collaboration as a singleton across separate schools or within the same school
Align disparate singletons under the same unifying PLC process
---
Additional Information
Product Code: BKG039, EKF601
ISBN: 9781952812873
Page Count: 144
"I don't know of a single building leader or guiding coalition that hasn't wrestled with the question 'How does the PLC process work with singletons?' The three singleton on-ramps Leane and Yost present keep the solutions to the singleton dilemma manageable and focused. This book is a game changer for helping teachers and leaders find meaningful ways to establish singleton teams so that they are driving in the fast lane of effective collaboration."
"Leane and Yost take the reader on a descriptive how-to journey through a process—collaborating as a singleton—that can be difficult to navigate. The many tools, resources, and real-life examples help the reader understand the challenges singletons face when collaborating and how to overcome them."
"Singletons and their building leaders have been waiting for a resource that provides the direction and support necessary for everyone to be a member of a highly functioning team, and here it is. Leane and Yost have provided a comprehensive, step-by-step process allowing for meaningful collaboration to occur on any team regardless of a school's size or configuration. Singletons in a PLC at Work® paves the way for every teacher and leader to effectively collaborate in pursuit of high levels of learning for all."