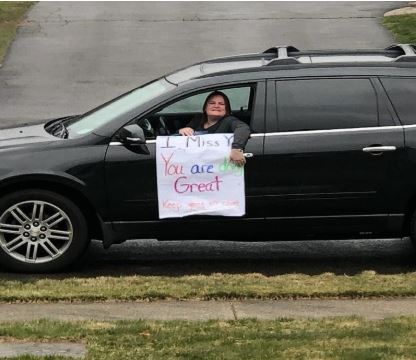 This entry is the third in a blog series called Pandemic Response and Educational Practices (PREP), which aims to highlight and further the important work educators are doing amid the worldwide COVID-19 crisis.
Teachers are taking extraordinary steps to connect with students, be a buffer to enhance students' sense of security, and build students' confidence that we will make it through the COVID-19 crisis together, even at a distance.
Teachers are improvising, relying on online resources, and coming up with schedules for their students to follow—schedules that include a balance between group time, independent learning, and simply time to check in with one another.
Yet, what about the students who are most vulnerable right now? What are the consequences for children and youth facing poverty, unstable home environments, or those with special learning needs that are not as easily addressed with online learning?  
Equity is a huge concern. And one that is not easily addressed. It is estimated that nationwide, more than three million students lack access to online learning. Many children in high-need neighborhoods or remote areas of the country lack computers or internet connection in the home. Some students with special learning needs may require print copies or adaptive versions of online materials. For many especially vulnerable students, the one buffering adult in their lives needed to stay afloat is found in the human connection of a teacher, staff member, or school leader.
Here are some of the compassionate, caring responses we are seeing:
Richmond Consolidated School in Richmond, Massachusetts, like many schools across America, is

providing Chromebooks

for those students without computers, as well as free internet service through the local cable company. Some teachers are also reaching out by phone or online for face-to-face, individual communication with their students. This is serving as an important resource for providing support, love, familiarity, and continuity to students in these challenging times.

At Newington High School in Newington, Connecticut, the administration, SPED, ESOL, and secretaries are all collectively

pitching in to make copies, offering curbside pickup at schools, and delivering educational materials

to students with special needs or without internet access.

The dean of students, teachers, and other staff also reach out to students by phone and internet regularly to stay connected.

A principal in Concord, New Hampshire, is finding ways for adolescents who are missing their friends to simply

connect with their peers

online.

A director of special education in Rhode Island is scheduling

online therapy sessions

with students.

Teachers are scheduling

remote office hours

for individual appointments with children and youth.

Teachers and administrators are r

eading stories online to children,

using video clips from websites such as

Go Noodle

or

TeacherTube

to present educational concepts in fun and digestible ways for students and their families, and making sure there are times to simply talk with students online.

Many websites have compiled links to

free online learning resources

that are available to schools, parents, and children.

Good Housekeeping

, for example, has links to

Scholastic

, a

Kids Daily PBS

Newsletter,

Khan Academy

,

Cosmic Kids Yoga

videos, and more.
However, learning is only part of the picture.
In the most vulnerable homes
In homes already beset with a history of poverty, violence, or substance abuse, the impact of a switch to remote learning is high. While many communities have come up with innovative strategies to disperse meals to families living in poverty, we have fewer resources to help maintain stability within the home, and many are concerned about the safety and mental health of children and families during this time. 
Caring and compassion
The caring and compassion of teachers right now is paramount. Teachers are demonstrating this caring in creative ways. In many communities, teachers are forming parades and driving past every student's house and neighborhood. In one community, a teacher drove past students' houses with a sign hanging from her car door, "I miss you! You are great!"
Other communities are creating elaborate scavenger hunts where families hide pictures of various objects in their windows and students and their families walk or drive around trying to find all of the clues. In New York City, residents are putting up rainbows in their windows to remind each other that after this storm passes, there will be a ray of light to guide us forward.
Building resiliency
Teachers can help build a child's and a family's resiliency right now by including a few simple exercises in their curriculum.
Ask students to look for and write about examples of

kindness and caring

they are seeing.

Increase students' sense of safety and security by helping to develop

an agenda

and consistency for their independent learning. Include an early morning check-in, perhaps specific times designated for specific subjects (e.g., math from 10 to 11 a.m.), and an end-of-the-day progress check-in.

Focus on

heroes

. Include exercises that ask students about heroes—they could be current world leaders, leaders during times of great urgency throughout history, or even fictional characters. Students could research, write about these heroes, or even present their findings during their online classroom sharing.

Help students

process their emotions.

Stories such as

The Kindness Quilt

by Nancy Elizabeth Wallace (2006) are also available on YouTube.
Teachers can also include some time to check with families and help family members process their emotions and problem solve about how to juggle as they adjust to their own virtual work schedules with children tugging at their sleeves. 
Family communication may be enhanced by giving students assignments that involve their families—it might be interviewing a parent or grandparent or asking parents about their memories of something unusual from their childhood. Here are conversation starters for parents that could be a useful resource as well.
Movement and breathing fresh air
To stay healthy, move your body. Teachers can even lead these activities online. It might be yoga stretches, running in place, jumping jacks, or asking students to take a "safe" walk around the block (with social distancing) and report back on what they saw and heard. There may be a park or a nature trail close by. Even opening the front door and taking a few deep breaths can help increase a sense of well-being.
Mindfulness for all
Some of the fear and anxiety that we all are experiencing right now relates to the many "what if" scenarios we play over and over in our heads, even as our media, in keeping us informed, is trying to predict the possible impact of COVID-19. Here are some mindfulness activities to help everyone stay centered.
Noticing springtime: In many areas, cherry trees have been blooming for weeks, daffodils and crocuses are out, and birds are bringing their symphonies to our neighborhoods. Teachers can ask students to take note, perhaps even draw sketches, or dig deeper into understanding the flora and fauna in their neighborhoods. Stepping out into the sun and soaking up some vitamin D can ward off depression and help maintain a healthy sleep schedule, so try to spend at least 30 minutes outside each day while maintaining a healthy distance from others.
Breathwork: Notice your breath. Observe the rise and fall of your belly as you inhale and exhale. Slow your breath down. Try a four-part breath: inhaling to a count of four, sustaining your breath, exhaling to a count of four, and holding your breath out. Intentionally breathe this slow breath for 2 to 3 minutes.
Breathing/Mixing it up: Breath instruction for younger children might include instructions to breathe like a bunny taking "bunny sniffs." Or it might involve a lion's roar, panting like a dog, hissing like a snake, or a breath called "cannon breath," which involves a series of repeated exhales where the breath is forcefully blown out—like blowing out candles on a birthday cake. Any of these could be done for 2 to 3 minutes each, and they could be done sitting, standing, or even in a unique animal position. (Consider mimicking a cobra, being a bear, moving like a dog as you pant, etc.) Variations of these breaths are even fun for older children and adults.
Mindfulness, meditation, and yoga classes online: Here is one online resource and also a link to the Center for Educational Improvement's "5 Mindful Habits" video.
Gratitude: Gratitude has many psychological and physiological benefits, such as increasing happiness and reducing depression. Cultivate attitudes of gratitude by keeping a daily gratitude book, naming three new things you're grateful for each day (use your senses). Replace any negative feelings you may have about a situation or person with three positive things you are grateful for about the situation or person. This helps shift your mindset toward more positive and promising outcomes and relationships.
Meditation on healing and health: Teachers could lead children or families in a simple meditation. We suggest heart beaming because this will activate the vagus nerve (see chapter 2 of our Mindful School Communities book) and enhance our feelings of compassion, kindness, and love.
The National Center for School Mental Health, the Mental Health Technology Transfer Center Network, and the Centers for Disease Control and Prevention have compiled resources to help families cope during this time:
Additional resources for increasing a sense of security and well-being are available. Mindful School Communities: The Five Cs of Nurturing Heart Centered Learning and Mindfulness Practices: Cultivating Heart Centered Communities where Students Focus and Flourish, by Christine Mason, Michele M. Rivers Murphy, and Yvette Jackson, is available at Solution Tree or on Amazon.com.
Yvette Jackson, EdD, is an adjunct professor at Teachers College at Columbia University in New York City and senior scholar for the National Urban Alliance for Effective Education. 
[author_bio id="1679″]
[author_bio id="1765″]