"People are tied together and yet isolated from each other by invisible threads of rhythm and hidden walls of time." —Edward T. Hall
Most global educators have a challenging relationship with the "Fs of Global Education." The Fs, which include cultural facets such as food, festivals, flags, and fashion, are those elements of culture we can see most easily. There's nothing wrong with exploring the observable aspects of culture, of course, but staying there can create superficial learning experiences, even leading to cultural misrepresentation and stereotypical assumptions about other cultures.
The Cultural Iceberg
In Edward T. Hall's 1976 book, Beyond Culture, he explores what he calls "The Cultural Iceberg Model." According to Hall, just as we can only see 10 percent of an iceberg above the waterline, 90 percent of what we call "culture" isn't visible above the surface. While we can observe facets such as fashion, flags, and food, deeper elements of culture such as dispositions, values, attitudes, and beliefs provide a more nuanced look at culture. In fact, when we dig beneath the surface of the Fs, we often find the reasons behind what we can see on the surface.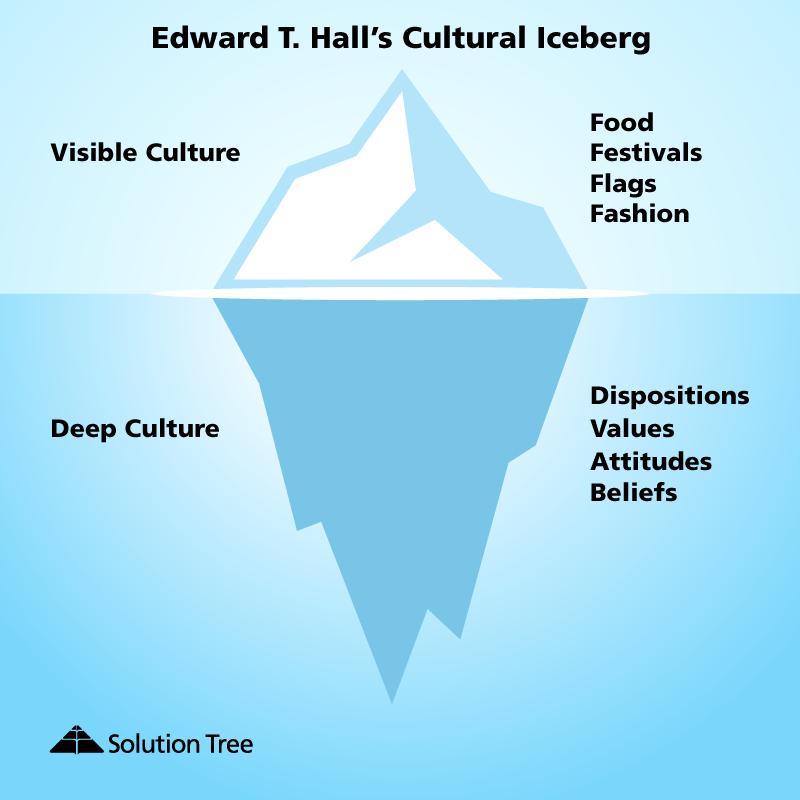 Our goal as global educators should be to dig beneath the waterline as much as possible, and global partnerships can help us do exactly that. It's not that we should avoid the Fs in our classrooms, but that we should ensure students' inquiry delves deeper into the complexities that "culture" and the human experience include.
4 Ways to Move Toward Teaching Deep Culture
Following are a few suggestions for how you might move beyond the Fs in your classroom.
The bottom line is that we have to do more than just dip our toes into the water; to really dig beneath the Fs of global education, we need to haul out the scuba gear and be prepared to take a much deeper dive. Global progress requires not just collaborative, multilateral development, but also the sort of nuanced understanding that helps us see how much we have in common and learn from what we do differently. If all we ever engage is what we can see on the surface, we will continue to stereotype and assume. Instead, we need to foster a different sort of engagement founded in questioning, investigating, and understanding, so that global progress is informed by all the richness of those beliefs and values found beneath the waterline.