magento files are not readable
Introduction: Ryan Schaaf
Gaming has become a ubiquitous part of modern-day culture. And it's not surprising – many of life's early lessons are learned in the form of play or in a game. As parents, we play games like peek-a-boo, hide and seek, and patty cake to amuse our little ones, while simultaneously teaching them life skills such as rules, cooperation, competition, and ethical behavior. Contemporary American author Diane Ackerman summed it up best when she stated, "Play is our brain's favorite way of learning." Educators are left with a powerful question: Is using games a valuable strategy for teaching, learning, and assessing in the modern-day classroom?
First, let's provide a current snapshot of the gaming industry and its culture. In 2016, 1.2 billion people globally played video games (Soper, 2013 November), while annual global gaming revenue was just shy of 100 billion dollars, and is forecasted to reach almost 120 billion by 2019 (Newzoo, 2016 April 21). Gaming has expanded its appeal to diverse demographics and has shattered many traditional preconceived notions. In the U.S. alone, 155 million people play video games. The average age of a gamer in the U.S. is now 35 years old (ESA, 2015). That is probably a lot higher than most people would guess. Let's do a quick mental exercise: imagine what a stereotypical gamer would look like. Does your mental image elicit a male, early-to-late teens, playing alone in a dark basement? Times have changed! In fact, there are over twice as many female gamers ages 18 or older than boys of the same age range (ESA, 2015). More and more people  are playing games and there is no indication that this trend will slow down.
Many educators are starting to see the writing on the wall (or perhaps a better analogy would be the high score on the leaderboard) and are implementing gaming into the classroom. Level Up Learning, a national survey conducted and reported by The Joan Ganz Cooney Center at Sesame Workshop, surveyed nearly 700 K-8 educators from across the United States. (Takeuchi, & Vaala, 2014) The survey indicated about 74% of K-8 teachers use digital games for some form of instruction. The numbers may seem impressive at first, but many of these gaming experiences are through short-form games – games played in short time intervals. These games are great for remediation, review, and exploration. However, they may not allow for deep and immersive game-based learning experiences. One reason for this may be many teachers find integrating complex games into the classroom to be a challenge. Educators may lack the know-how to incorporate games into instruction or how to find some good examples aligned to instructional curriculums. These challenges are explored at great length in the new book, Game On: Using Digital Games to Transform Teaching, Learning, and Assessment.
What follows next is a summary of a participatory action research project conducted by educator Becky Koza. During her research, Becky details her experiences facilitating a social studies game-based unit into her instructional program. Her story is an example of theory becoming practice.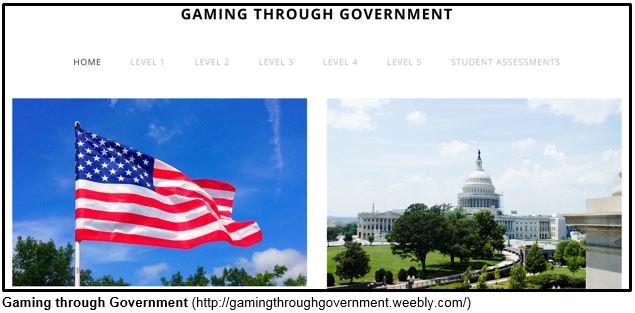 Gaming through Government: Rebecca Koza
Gaming through Government was a project born out of a passion to use digital games and gamification to engage students in effective 21st-century learning experiences. The goal of the project was two-fold. I wanted to explore how implementing digital games in other content areas such as social studies can positively impact student learning. However, I also wanted to measure changes in perception towards digital gaming and gamified learning experiences in the classroom. Therefore, my ultimate goal was to develop online learning experiences proving digital gaming is an effective pedagogical strategy, while simultaneously changing any negative student and parent perceptions about digital gaming and learning.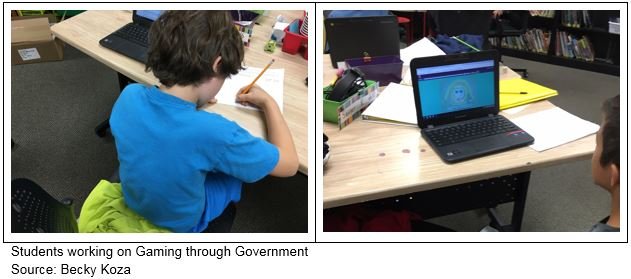 The Arts Based School (ABS) is a K-8 arts-integrated charter school located in Winston-Salem, North Carolina. ABS utilizes the arts as a lens to engage students and deepen learning by making it more meaningful and authentic. The learning experiences were aligned to North Carolina 5th Grade Social Studies Essential Standards. After standards and vocabulary were utilized to develop learning goals, the storyline of Gaming through Government was presented to students to provide an authentic context for playing the games, learning the content, and ultimately passing the five levels. Throughout the unit, students earned points by playing digital games, answering comprehension questions on digital videos hosted on EDpuzzle, and writing down answers to questions based on vocabulary explored throughout gameplay. Students then demonstrated their understanding by completing a quizizz that was aligned to the learning goals of each level. By passing levels, students increased their rank from an intern to a state representative, then on to a governor, vice president, and eventually the president.
I was impressed with the embedded connection between digital gaming and the growth mindset. Students often asked to replay games, retake a quizizz, or watch a video again because they wanted to earn more points because they believed they could do better. Furthermore, students asked to work on Gaming through Government at home. Students repetitively told me how much fun Gaming through Government was and the audible cheers when I stated it was time to work on Gaming through Government was invigorating. Ultimately, it was an absolute joy to watch students have so much fun while learning and many of the students became so interested in aspects of the government that they would delve deeper into the subject matter by asking high-level questions and making rich connections that showed impressive understanding of concepts.
The results of the project showed that digital gaming and gamified learning experiences are effective for most learners. Student scores increased by over 400% between pre- and post-assessment scores. Perceptual post-unit data was also overwhelmingly positive. About 91% of students thought Gaming through Government was an effective educational experience, while 94% of students felt like Gaming through Government should be used in the classroom.
Parent perceptions about using gaming for learning has also changed. One parent stated, "My child has enjoyed this website, and is working on his project at home.  I am generally very old-fashioned and somewhat skeptical of this kind of game-based learning – but it does seem like a really fun way of learning this information and he has learned a lot." According to parent perception data, prior to implementation of Gaming through Government, 44.2% of parent respondents believed that digital gaming and gamified experiences were effective strategies to help students learn (earning a 4 or 5 rating, with 1 being not effective and 5 being highly effective). After implementation, 68.8% of parent respondents believed digital gaming and gamified experiences were effective strategies to help students learn. Furthermore, 81.3 % of parents stated their children enjoyed playing Gaming through Government.
This unit is simply one example – gaming's impact on education is still in its infancy. As a parting gift, here are two free resources for educators to explore. First, the Digital Learning Game Database was created to archive and curate digital learning games for educators to use with their students. The database has several dozen games and is growing on a daily basis. Next, educators should feel free to visit http://bit.ly/GamingEvernote to access a dynamic collection of game-based learning articles, materials, and resources.
References
ESA. (2015). Essential facts about the video game industry. Retrieved from: http://www.theesa.com/wp-content/uploads/2015/04/ESA-Essential-Facts-2015.pdf
Soper, T. (2013, November). Study: 1.2 billion people are playing games worldwide; 700M of them are online. Geekwire. Retrieved from: http://www.geekwire.com/2013/gaming-report-12-billion-people-playing-games-worldwide/.
Takeuchi, L. M., & Vaala, S. (2014). Level up learning: A national survey on teaching with digital games. New York: The Joan Ganz Cooney Center at Sesame Workshop. Retrieved from: http://www.joanganzcooneycenter.org/wp-content/uploads/2014/10/jgcc_leveluplearning_final.pdf
The global games market reaches $99.billion in 2016, Mobile generating 37% (2016, April 16). Newzoo. Retrieved from: https://newzoo.com/insights/articles/global-games-market-reaches-99-6-billion-2016-mobile-generating-37