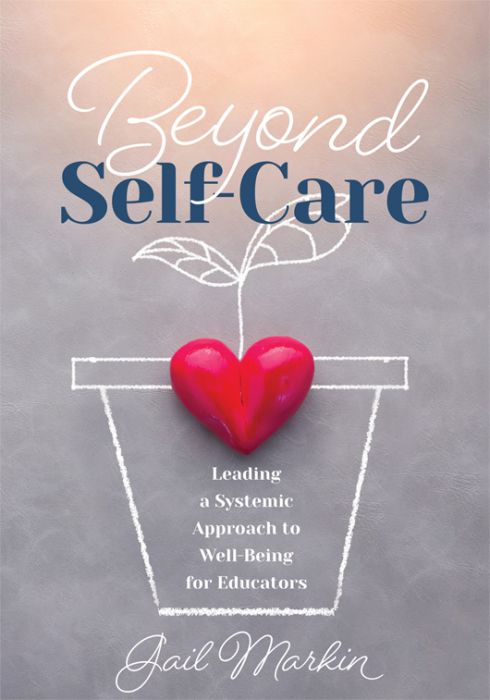 Leading a Systemic Approach to Well-Being for Educators
Wellness for teachers and support staff means so much more than taking time for self-care. It requires systemwide change supported by leadership. This book provides K–12 administrators with a framework and tools to address the stress that impacts daily life for the majority of educators.
Add this eBook to your credit card purchase and gain immediate access.
eBooks are available on desktop, Android, and iOS via Adobe Digital Editions. eBook purchases are limited to one eBook per title, per account. Please visit the eBook FAQ for more information.
Publication date:
Only %1 left
A practical guide for K–12 leaders to create systemic change that fosters staff wellness
So often, educators' conversations about well-being begin and end with self-care, without addressing all aspects of educator wellness. Author Gail Markin explores the importance of well-being at individual, group, and system levels, as well as the role of leadership in supporting cultures of well-being. Using research-based practices and excerpts of conversations from working educators, Markin delivers a guidebook to healthier, more passionate schools.
This book will help K–12 leaders:
Understand why well-being matters in education
Learn about research-based, SEL-focused self-care practices
Improve their leadership skills to better support well-being in their school community
Access real-world examples that illustrate how these practices work
Build better systems to improve both personal and collective well-being
Related Topics
Educator WellnessLeadershipTeacher Efficacy
---
Additional Information
Product Code: BKG079, EKF624
ISBN: 9781954631274
Published By: Solution Tree
"Although many educators feel empowered to create classroom spaces of experimentation, candor, and curiosity, this often runs in stark contrast to their workplace cultures, where compliance, blame, and fear are the rule. Beyond Self-Care highlights valuable, systemic approaches to improving educator well-being by fostering greater psychological safety. This insightful and practical work is a powerful contribution to the field and an essential tool for educators."
"Gail Markin has crafted a compelling and inspiring book that draws on an extensive body of research and on-the-ground experience to provide educators with valuable, accessible, and practical information on the why, what, and how of a system-level approach to self-care for bolstering educator well-being. The text is brought to life through Gail's cogent and compelling stories that are drawn from her experience and supported by groundbreaking research in the fields of social and emotional learning, positive psychology, leadership studies, and the science of well-being. This book is clearly a must-read for anyone who wishes to be part of an educational system that emphasizes educator well-being at its very core. I highly recommend it!"
"In a clear and easy read, Gail Markin articulates what I believe leadership should be. This book is not just about well-being; rather, it's about leadership and how to philosophically see the world. It reminds us that a 'well' workplace nurtures a positive, inclusive, and vibrant workplace culture, and that is what we as leaders aspire to do. Beyond Self-Care highlights the importance of treating both yourself and others well—a topic that should resonate not just with educational leaders but with all leaders."