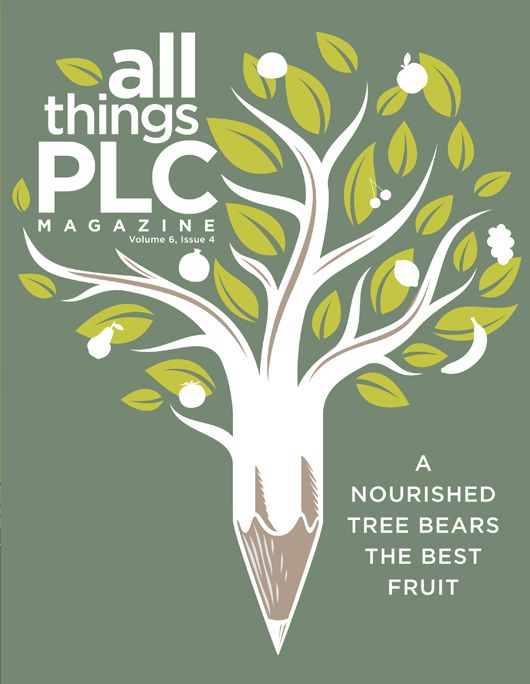 AllThingsPLC Magazine Single Event Issue
AllThingsPLC Magazine is a must-have for emerging and veteran professional learning communities (PLCs). Each issue includes PLC research, inspiration, fixes, how-tos, and more.
4 issues for only $49.95—a one-year subscription.
Call 800.733.6786 for bulk discounts.
Print edition is available to ship within the continental United States only.
Availability:
Out of stock
Publication date:
AllThingsPLC Magazine Fall 2018 Issue.
Your magazine for all things PLC
Read article, The Unfamiliar Truth About Resistance to Change in Schools by Luis F. Cruz.
Rely on AllThingsPLC Magazine to fuel your PLC journey. Each issue of this PLC magazine includes a unique mix of inspiration, fixes, how-tos, and tips that will maximize your efforts toward establishing and maintaining a high-achieving professional learning community. With print and digital versions available, you can access this dynamic quarterly publication whenever, wherever you want: in print, on your desktop, or with your favorite mobile device.
Get advice and insights from PLC thought leaders, including Robert Eaker, Mike Mattos, Anthony Muhammad, and Tim Brown.
Access in-depth professional learning community articles, case studies, websites, books, and other resources to strengthen your PLC and professional development for teachers and educators.
Read engaging, personal commentaries from educators who have implemented the process to great success.
Gain specific, proven strategies that foster a culture of collaboration and higher learning in schools and districts.
Purchase your subscription today, and we'll send your first issue as soon as it is released. The delivery of your first issue depends on your purchase date (see FAQ for more information). The print edition is available to ship within the continental United States only. Bulk print orders can be shipped to central offices and school buildings only. We are unable to accept returns or cancel previously placed orders.
Related Topics
Professional Learning Communities at Work®Professional Learning Communities
---
Additional Information
Product Code: CPF001-1
Page Count: 52
"One of the major initiatives my department is charged with supporting is the implementation of PLCs in our district. With all of the work that needs to be done every day, it is often difficult to find the time to just sit down and read about our profession. Because of that, it is rare that I find a magazine that I not only take the time to read cover to cover but end up reading multiple times. The articles and Tools & Resources in the Winter 2017 edition of the AllThingsPLC Magazine helped reinforce the importance of well-functioning PLCs in our district, as well as providing some practical ideas for upcoming work. I found the article 'Hiring New Staff at Mason Crest Elementary School' of particular interest. With a key position coming open in my department, it was important that our interview process go beyond the usual questions and convey to each candidate the importance of our work and our educational philosophy. I was able to use many of the practices outlined in the article to go forward to find the best candidate that was not only capable of the work but also shared our vision."