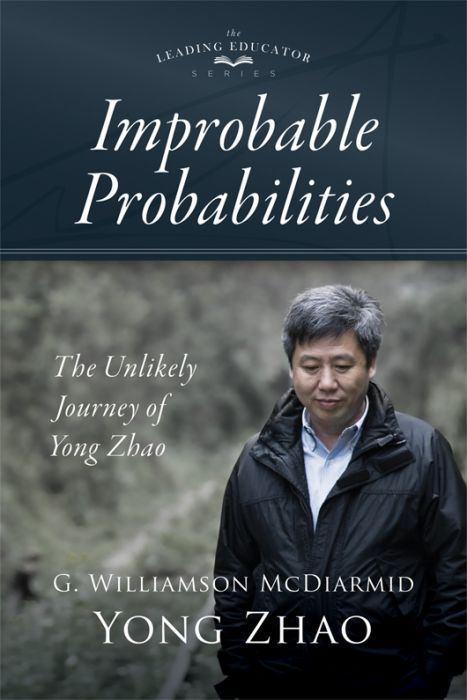 The Unlikely Journey of Yong Zhao
In this instructive title, authors McDiarmid and Zhao showcase the educational experiences of internationally acclaimed educator Yong Zhao: a pioneer of educational equity who has emerged as one of the most respected educators in the world.
Publication date:
Only %1 left
A memoir of growth and development in leadership for educational equity
Improbable Probabilities is an analysis of opportunity as seen through the journey of renowned scholar Yong Zhao. From an obscure village in a China wracked by the Cultural Revolution to acclaim as one of the most influential international voices in education today, Yong's journey reveals that disadvantages may become advantages and assuming risks that others avoid can open unforeseen opportunities.
In this instructive title, you will learn about:
Why families are important for children, through Yong's experiences growing up impoverished in a supportive but illiterate family
How low or no expectations may benefit some children, as illustrated by an absence of familial expectations that freed Yong to explore and discover a love of language, reading, and writing
Students' potential to find and take advantage of opportunities
How Yong discovered, explored, and pursued opportunities others failed to see in order to become internationally recognized as a researcher, professor, and writer
Why Yong's publications and perspective challenge many of the current orthodoxies in education, especially regarding how to improve the learning of students living in low-wealth communities
---
Additional Information
Product Code: BKG016, EKF578
ISBN: 9781952812415
"Improbable Probabilities is a powerful text demonstrating Yong Zhao's unwavering determination. This remarkable story inspires readers to focus on possibilities and opportunities rather than obstacles. Educators learn groundbreaking practices to reimagine the field of education and increase all students' probability of success."
"This is a must-read for all educators! Yong Zhao's journey is a reminder that all students can be successful regardless of the circumstances into which they are born. Improbable Probabilities calls educators to expand their vision of what education is and how it can be redefined to create opportunities for all students."
"Improbable Probabilities illustrates how education is a phenomenon among others, such as chance, risk, and opportunity. G. Williamson McDiarmid and Yong Zhao's book contributes to the corpus of work exposing the frailty of systems and ideologies that can break down under the pressure of goodwill."