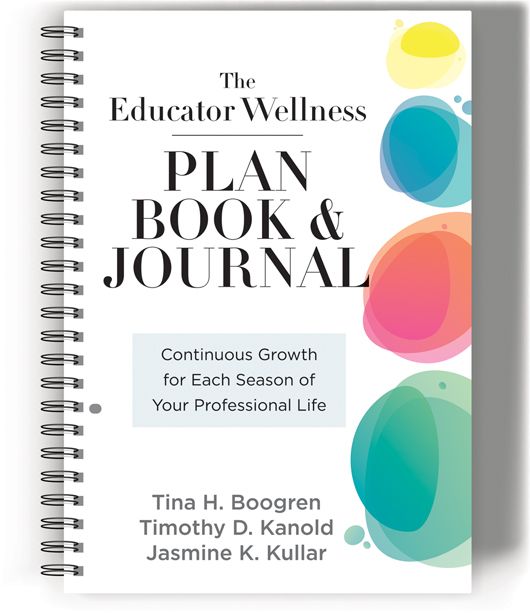 The Educator Wellness Plan Book and Journal
Continuous Growth for Each Season of Your Professional Life
This goal-setting planner offers K–12 teachers and administrators a practical tool for integrating physical, mental, emotional, and social wellness tips and strategies daily to create a personal and professional life that maintains focus and balance.
Publication date:
Format:
Hardcover, Spiral Bound
Rekindle your professional purpose with a planner designed to help build habits for well-being
Educators' daily stressors can easily accumulate without intentional wellness actions in place. Designed as both a plan book and journal, this companion resource to Educator Wellness: A Guide for Sustaining Physical, Mental, Emotional, and Social Well-Being offers inspirational, practical weekly routines and reflections for teachers committed to improving their wellness practices throughout the school year.
Use this plan book and journal to:
Commit to practices that encourage well-being in each of the four dimensions: physical, mental, emotional, and social
Organize your thoughts, collect data on your current habits, and reflect on areas to improve with 46 field-tested tools
Monitor your progress on each month's wellness goal and set intentions to encourage long-term maintenance of positive habits
Related Topics
Educator WellnessLeadershipProfessional Learning Communities at Work®Professional Learning CommunitiesSocial-Emotional LearningTeacher Efficacy
---
Additional Information
Product Code: BKG139
ISBN: 9781958590492
Published By: Solution Tree
"Too often, we ignore or put off implementing the critical elements of living a healthy life. As we know, what gets monitored gets done. Start making positive changes today with this plan book and journal."
"It can be daunting to think about where to start your wellness journey, but The Educator Wellness Plan Book and Journal provides a road map for teachers, guiding them every step of the way.
"By aligning the dimensions of wellness, authors Tina Boogren, Tim Kanold, and Jasmine Kullar deliver specific, practical, and proven tools targeted for each season in the life of an educator."