Free Reproducibles
The Educator Wellness Plan Book and Journal
Continuous Growth for Each Season of Your Professional Life
Educators' daily stressors can easily accumulate without intentional wellness actions in place. Designed as both a plan book and journal, this companion resource to Educator Wellness: A Guide for Sustaining Physical, Mental, Emotional, and Social Well-Being offers inspirational, practical weekly routines and reflections for teachers committed to improving their wellness practices throughout the school year.
Use this plan book and journal to:
Commit to practices that encourage well-being in each of the four dimensions: physical, mental, emotional, and social
Organize your thoughts, collect data on your current habits, and reflect on areas to improve with 46 field-tested tools
Monitor your progress on each month's wellness goal and set intentions to encourage long-term maintenance of positive habits
Get your copy today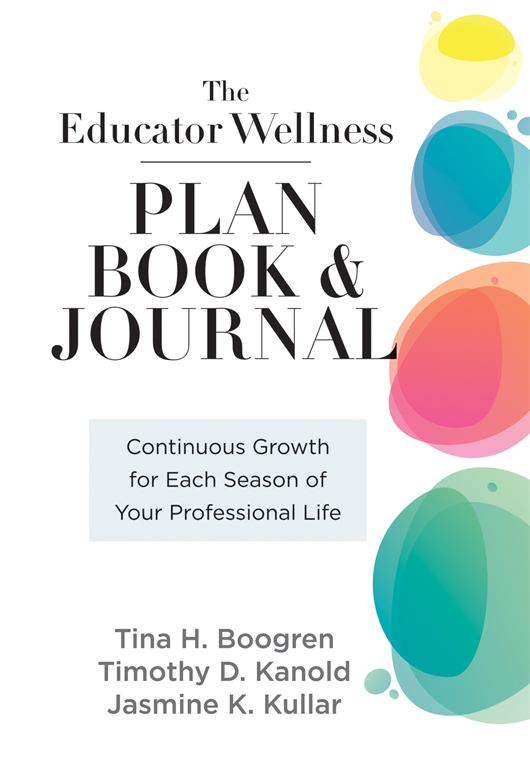 ---
Table of Contents
Part 1
About This Plan Book and Journal
Welcome
How to Use This Plan Book and Journal
Part 2
Summer: A Season of Renewal
Summer Overview and Reflection: Physical Wellness
End of Summer: What's Next?
Part 3
Fall: A Season of Opportunity
Fall Overview and Reflection: Mental Wellness
End of Fall: What's Next?
Part 4
Winter: A Season of Perseverance
Winter Overview and Reflection: Emotional Wellness
End of Winter: What's Next?
Part 5
Spring: A Season of Transition
Spring Overview and Reflection: Social Wellness
End of Spring: What's Next?
Appendix A
Appendix B
REPRODUCIBLES
Appendix A
Appendix B
Suggested Resources
Books
Kanold, T. D., & Boogren, T. H. (2021). Educator wellness: A guide for sustaining physical, mental, emotional, and social well-being. Bloomington, IN: Solution Tree Press.
Websites