Free Reproducibles
Landscape Model of Learning
Designing Student-Centered Experiences for Cognitive and Cultural Inclusion
Implement culturally responsive teaching and improve your school culture. By applying the research-based teaching strategies found in this essential guide, you will learn how to create a more meaningful and inclusive learning ecosystem.
Benefits
Retire the inadequate goal of access and move education toward the higher and more urgent, equitable goal of helping every student reach their highest possible level of individual success.
Embrace the concept of inclusive prosperity, which goes beyond diversity to accepting and supporting all students—their experiences, gifts, and challenges—to build communities where all students belong and thrive.
Receive practical, research-based strategies for developing agency and engagement so that students become the protagonists of their own journeys through the learning ecosystem.
Design systems for student protagonism by implementing student-centered strategies for cognitive and cultural inclusion.
Obtain reproducible tools to deepen understanding and implementation of the material.
Learn how to successfully implement the model despite common hurdles and potential challenges, such as traditional academic contexts and economically disenfranchised schools.
Get your copy today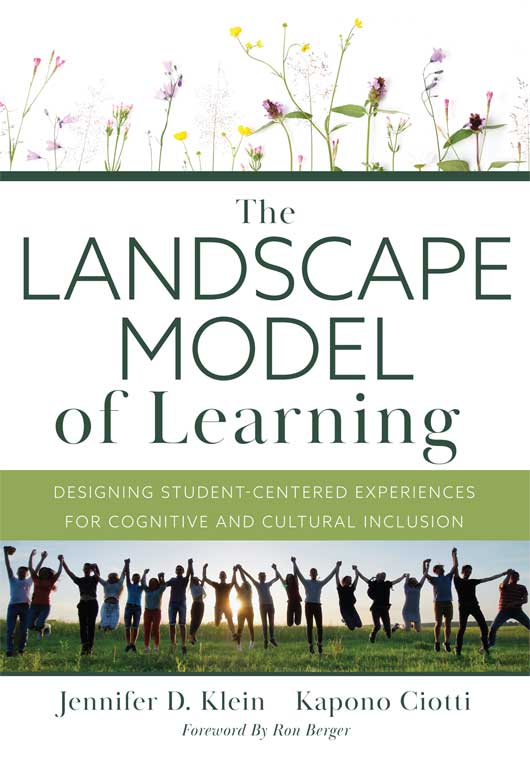 ---
Table of Contents
Introduction: Why Are We Here?
Part 1: Understanding the Landscape Model
Chapter 1: The Landscape Model's Three Elements
Chapter 2: Eight Guiding Principles
Part 2: Implementing the Landscape Model
Chapter 3: The Ecosystem
Chapter 4: The Horizon
Chapter 5: The Pathway
Part 3: Leading the Landscape Model
Chapter 6: Student Growth Assessment on the Landscape
Chapter 7: Challenges of Implementation
Chapter 8: Landscape Model Implementation for Long-Term Success
Chapter 9: Opportunities for the Future
Epilogue: Why This Work Matters
Appendix
REPRODUCIBLES
Chapter 2
Chapter 4
Chapter 5
Chapter 8
Chapter 9
SUGGESTED RESOURCES
Books
Conzemius, A. E., & O'Neill, J. (2014). The handbook for SMART school teams: Revitalizing best practices for collaboration (2nd ed.). Bloomington, IN: Solution Tree Press.
Klein, J. D. (2017). The global education guidebook: Humanizing K–12 classrooms worldwide through equitable partnerships. Bloomington, IN: Solution Tree Press.
Websites
Chapter 1
Chapter 3
Chapter 4
Chapter 5
Chapter 6
Chapter 7
Chapter 8