Free Reproducibles
Responding to Resistance
Thirty Strategies to Manage Conflict in Your School
Educational leadership is never conflict free. In Responding to Resistance, author William A. Sommers acknowledges this reality and presents school and district leaders with a set of wide-ranging response strategies. Whether a conflict involves staff, students, parents, or other stakeholders, this book will help you address it openly, decisively, and efficiently, so you have more time to focus on what matters most: improving learning in your school community.
Benefits
Become familiar with five primary causes of conflict and four dangers of ignoring conflict.
Gain foundational communication skills for clarifying issues and defining problems.
Discover conflict resolution strategies for teams, individuals, and large groups.
Understand the research and expertise that support each response strategy.
Learn from realistic vignettes that illustrate common conflicts in schools and how a leader might react effectively to overcome resistance to change.
Get your copy today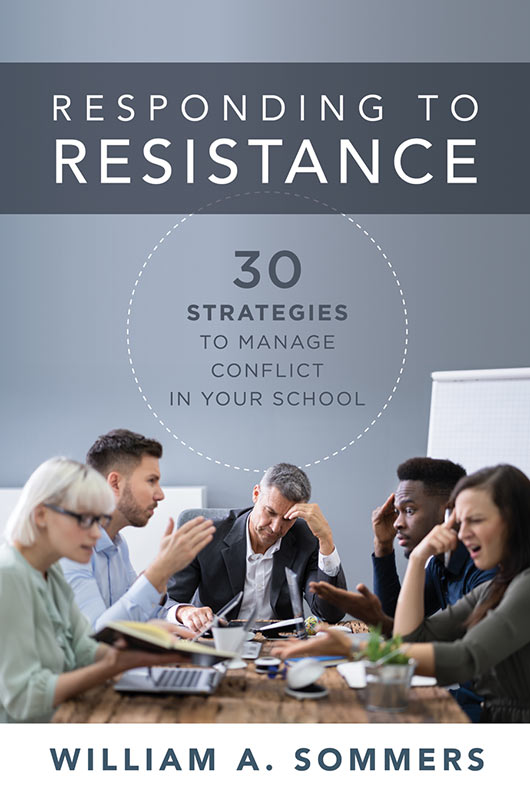 ---
TABLE OF CONTENTS
Introduction: What's the Real Problem?
Chapter 1: Foundational Skills
Chapter 2: Strategies for Working With Teams
Chapter 3: Strategies for Working With Individuals
Chapter 4: Strategies for Working With Large Groups
Chapter 5: Strategies for When Nothing Seems to Work
Conclusion
SUMMARY: THE MAIN IDEA
STUDY GUIDE
REPRODUCIBLES
SUGGESTED RESOURCES
Books
Abrams, J. (2019). Swimming in the Deep End: Four Foundational Skills for Leading Successful School Initiatives. Bloomington, IN: Solution Tree Press.
Websites