Free Reproducibles
From Burnt Out to Fired Up Reproducibles
Reigniting Your Passion for Teaching
Overwhelmed teachers, this book is for you. The truth is that you can be remarkable without burning out. Drawing from the latest research and her own teaching experiences, author Morgane Michael delivers research-backed strategies to replenish your well-being and reignite your passion for your purpose.
Benefits
Learn why burnout happens and what you can do to thrive once again.
Explore the five Rs—reflect, reframe, refocus, reconnect, and reveal—and understand how each can help counter burnout.
Acquire a clear road map for reigniting your love for teaching.
Inspire others to reignite their own passion for education.
Discover how to sustain your passion and avoid burnout going forward.
Get your copy today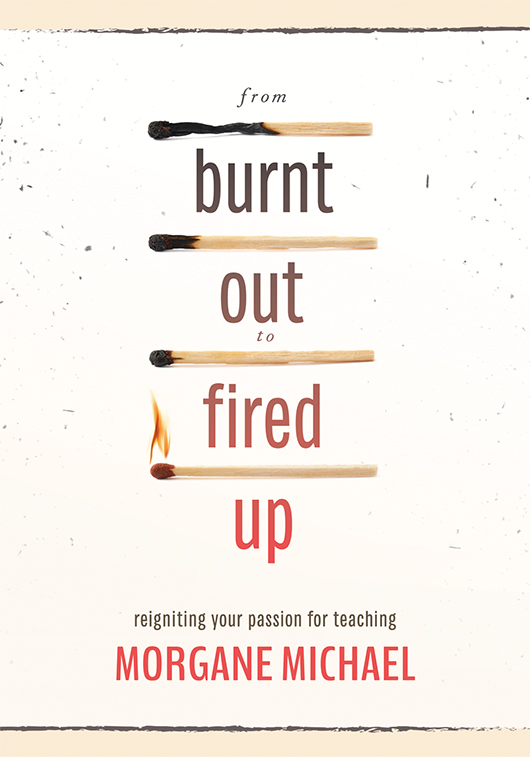 ---
TABLE OF CONTENTS
Chapter 1: Reflect: How to Tune In and Check Up on Yourself
Chapter 2: Reframe: How to Be Resilient in the Face of Adversity
Chapter 3: Refocus: How to Harness Intentionality to Reach Your Goals and Dreams
Chapter 4: Reconnect: How to Boost the Quality of the Social Connections in Your Life
Chapter 5: Reveal Your True Self: How to Embrace Creativity as an Expression of Your Humanity
Chapter 6: Reignite: Craft Your Own Road Maps to Go From Burnt Out to Fired Up
PRINTABLE REPRODUCIBLES
Chapter 2
Chapter 3
Chapter 5
Chapter 6
SUGGESTED RESOURCES
Websites