Free Reproducibles
Healthy Teachers, Happy Classrooms
Bestselling author Dr. Marcia L. Tate delivers 12 brain-based principles for avoiding teacher burnout and increasing health and wellness for teachers. These research-backed strategies will help you thrive personally and professionally. Each chapter digs into the benefits of these self-care and stress management tips and offers suggestions for bringing the practice to life in your classroom.
Benefits
Understand the root causes and symptoms of educator and teacher stress, overwhelm, and burnout.
Learn practical strategies proven to help you live better, live longer, and become a better teacher.
Integrate wellness principles and coping strategies into your daily life so you feel rejuvenated and ready to serve others.
Translate your wellness to the classroom, creating happy, ready-to-learn students.
Maintain a lifestyle of happiness and health for long-term success.
Get your copy today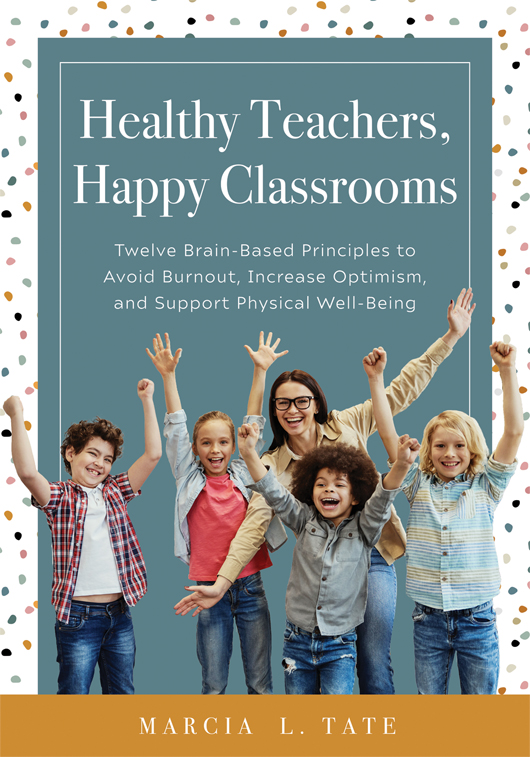 ---
TABLE OF CONTENTS
Chapter 1: Passion for Your Purpose
Chapter 2: Laughter
Chapter 3: Optimism
Chapter 4: Games
Chapter 5: Movement
Chapter 6: Music
Chapter 7: Calm Surroundings
Chapter 8: Close Personal Relationships
Chapter 9: Nutrition
Chapter 10: Sleep
Chapter 11: Spirituality
Chapter 12: Purpose
Epilogue
STUDY GUIDE
PRINTABLE REPRODUCIBLES
Chapter 1
Chapter 2
Chapter 3
Chapter 4
Chapter 5
Chapter 6
Chapter 7
Chapter 8
Chapter 9
Chapter 10
Chapter 11
Chapter 12
SUGGESTED RESOURCES
Books
Jensen, E. (2019). Poor students, rich teaching: Seven high-impact mindsets for students from poverty. Bloomington, IN: Solution Tree Press.
Websites