Free Reproducibles
Making the Move With Ed Tech
Ten Strategies to Scale Up Your In-Person, Hybrid, and Remote Learning
Discover how to integrate technology in the classroom by adapting ten strategies that facilitate creativity and critical thinking and increase student engagement. This research-based resource is a practical tool you can keep close at hand to help you be intentional with ed tech and strengthen your teaching practice.
Benefits
Improve their understanding of ed-tech tools and frameworks.
Explore both familiar and new instructional strategies or moves.
Learn to employ educational technology tools in the service of instructional strategies.
Align instructional strategies with new tools and with International Society for Technology in Education (ISTE) Standards for Students and Educators.
Apply strategies and tools across learning modalities, including in-person, remote, and hybrid learning.
Get your copy today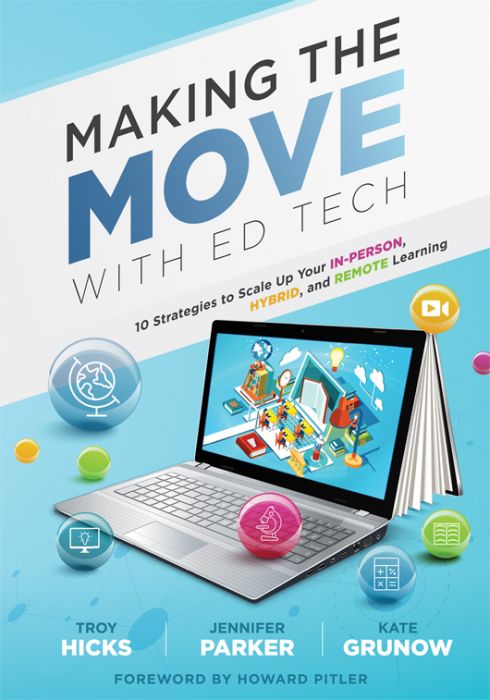 ---
TABLE OF CONTENTS
Introduction
Chapter 1: Defining the Moves: What Does the Research Say?
Chapter 2: Purposeful Technology Integration: Understanding the Common Denominators
Chapter 3: Deepening the Moves: Connecting Effective Instruction to Purposeful Technology
Chapter 4: Move 1: Six-Word Story
Chapter 5: Move 2: Sort It Out
Chapter 6: Move 3: Cubing
Chapter 7: Move 4: Chalk Talk
Chapter 8: Move 5: Accountable Talk
Chapter 9: Move 6: Jigsaw
Chapter 10: Move 7: Exit Ticket
Chapter 11: Move 8: Barriers or Bridges
Chapter 12: Move 9: I See, I Think, I Wonder
Chapter 13: Move 10: Gallery Walk
Appendix A: List of Moves
Appendix B: Locating Tools to Make the Move in the 21things4educators Website
Appendix C: Technology Categories for Purposeful Instruction
REPRODUCIBLES
Chapter 4
Chapter 8
SUGGESTED RESOURCES
BOOKS
Francis, E. M. (2022). Deconstructing depth of knowledge: A method and model for deeper teaching and learning. Bloomington, IN: Solution Tree Press.
Marzano, R. J. (2017). The new art and science of teaching. Bloomington, IN: Solution Tree Press.
Marzano, R. J., & Pickering, D. J. (2011). The highly engaged classroom. Bloomington, IN: Marzano Resources.
Novak, S., & Slattery, C. (2016). Deep discourse: A framework for cultivating student-led discussions. Bloomington, IN: Solution Tree Press.
WEBSITES
Introduction
Chapter 2
Chapter 4
Chapter 5
Chapter 6
Chapter 7
Chapter 8
Chapter 9
Chapter 10
Chapter 11
Chapter 12
Chapter 13
Appendix C