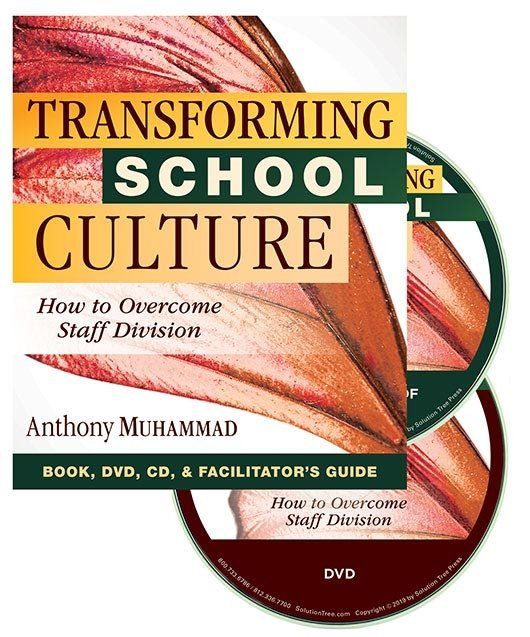 Transforming School Culture [DVD/CD/Facilitator's Guide/Book]
Address staff resistance and create a positive school culture with this book and video set, which includes Transforming School Culture by Anthony Muhammad. Follow one district's staff and educational leadership as they explore a school improvement plan that created a positive school culture and became an award-winning district.
A school leadership video and book for creating a positive school culture
Create a positive school culture with this video workshop that includes the second edition of Anthony Muhammad's best-selling book Transforming School Culture: How to Overcome Staff Division. This educational leadership video workshop and facilitator's guide details a proven process for addressing diverse issues of staff resistance to build a productive, positive school culture. Participants follow one district's teachers and educational leadership through their journey as they explore how they implemented Anthony Muhammad's framework to become an award-winning district.
This comprehensive video workshop on positive school culture provides K–12 educational leaders with:
A copy of Transforming School Culture, 2nd edition, for in-depth referencing of workshop material
A facilitator's guide, in print and on CD, with activities to better interact with and understand the content
High-quality footage of teachers, administrators, and educational leadership in real-life school settings
Guidance for identifying and achieving dynamic changes through trust, collaboration, and process with an emphasis on student learning
A school improvement plan framework for educational leadership to understand how to move a school culture forward
Related Topics
LeadershipProfessional Learning Communities at Work®School Improvement
---
Additional Information
Product Code: DVF077
ISBN: 9781947604476
Published By: Solution Tree