Free Reproducibles
Motivated to Learn
Decreasing Challenging Student Behaviors and Increasing Academic Engagement
Create safe classrooms where students are empowered to build resilience, cope with traumatic experiences, and achieve at high levels. Learn how to cultivate a trauma-informed classroom environment and utilize classroom management strategies to encourage positive learning experiences for trauma-impacted students.
Benefits
Understand childhood trauma and the impact traumatic experiences have on learners.
Develop a trauma-informed attitude and mindset.
Examine classroom structures that support trauma-sensitive practices while recognizing those that may contribute to trauma.
Gain effective classroom management strategies and techniques to support all students, including those experiencing trauma.
Learn how to develop trusting and positive relationships with trauma-impacted students and their families.
Get your copy today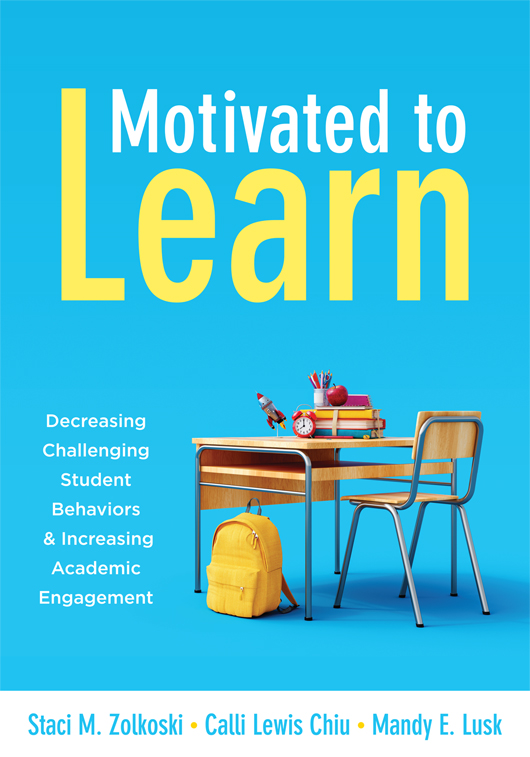 ---
TABLE OF CONTENTS
Chapter 1: Why Students Exhibit Challenging Behaviors and How These Behaviors Impact Academic Engagement
Chapter 2: Students Would Like a Choice: A Guide to Providing Choices
Chapter 3: It's All About the Reward: A Guide to Token Economies
Chapter 4: Set Students Up for Success: A Guide to High-Probability Sequencing
Chapter 5: Teamwork Makes the Dream Work: A Guide to Classwide Peer Tutoring
Chapter 6: Put the Students in Charge: A Guide to Self-Monitoring
Chapter 7: Call on Students: A Guide to Opportunities to Respond
Chapter 8: Remember What You Talked About: A Guide to Precorrection
Epilogue
Appendix: Resources for Teachers
PRINTABLE REPRODUCIBLES
Chapter 1
Chapter 2
Chapter 3
Chapter 4
Chapter 5
Chapter 6
Chapter 7
Chapter 8
SUGGESTED RESOURCES
BOOKS
Boogren, T. H. (2018). Take time for you: Self-care action plans for educators. Bloomington, IN: Solution Tree Press.
Buffum, A., Mattos, M., & Malone, J. (2018). Taking action: A handbook for RTI at Work. Bloomington, IN: Solution Tree Press.
WEBSITES