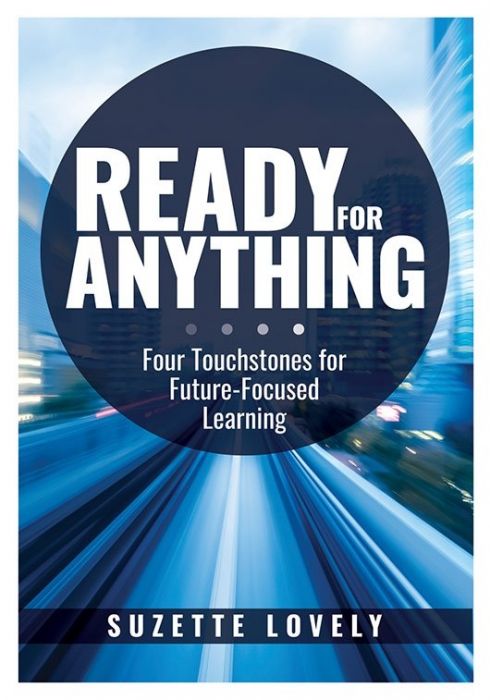 Four Touchstones for Future-Focused Learning
Prepare your students for the future. Use innovative classroom practices to teach 21st century skills and create personalized learning experiences for students. Learn how future-focused pedagogy, including strength-based learning, can ensure college and career readiness for all students.
Innovative teaching strategies for future-focused learning
Effective teaching and learning must reflect what's happening technologically, socially, economically, and globally. In Ready for Anything, author Suzette Lovely introduces four touchstones that will invigorate students' curiosity and aspirations and develop their 21st century skills for college and career readiness. Each touchstone provides K–12 educators with specific actions, methods, and innovative teaching strategies they can begin using in classrooms today.
Use this book to guide your classroom instruction in preparing students for their future:
Become familiar with the changes that the 21st century has brought into the lives of students.
Expand your horizons as an instructor, and improve your craft in order to best prepare students for the future, using strength-based learning and personalized learning experiences.
Consider the importance of closing the opportunity gap in education and training students to become future-ready graduates.
Study student engagement and learning, and understand why learning, not teaching, should be the focal point of change in the classroom.
Explore four touchstones that will act as guides toward innovative classroom practices and future-focused pedagogy.
Related Topics
21st Century SkillsInstruction
---
Additional Information
Product Code: BKF848
ISBN: 9781947604391
Published By: Solution Tree
Page Count: 144
"Great things happen in classrooms, and great things happen in books. Suzette Lovely builds a new world of meaning for teachers that will lead to even greater impact in providing students a competitive advantage in our ever-changing economy."
"The urgency and importance of preparing the next generation of learners for their futures has never been more pressing. Learners must be prepared for anything, and we need a hands-on, practical resource to inform our thinking and planning path. In Ready for Anything, Suzette Lovely offers the tools we need, perspectives we can tap, and examples we can follow as we design new and compelling experiences with students and nurture their skills and drive to learn for life."
"This book is amazingly comprehensive, while at the same time, compellingly concise. Suzette Lovely has authored a thought-provoking book that motivates the reader to reimagine what his or her work could become and provides numerous tools to help with the journey. This book is a profound must-read for educators at all levels."
"With all that we know about how children learn, evidence-based practices, and the changing global economy today's learners will enter upon graduation, utilizing a traditional, one-size-fits-all approach to schooling is educational malpractice. In Ready for Anything, Lovely offers four touchstones for the learning our kids need right now, while ensuring efficacy in the change process. If we are to prepare our students for whatever it is they choose to do in the future, we must implement innovative practices and move from a teacher-centric to learner-centric paradigm to provide better opportunities for all students. This book provides a dynamic road map to do just that."
"Ready for Anything is a thoughtful and inspiring book that serves as a lens for educators to reflect on their mission, reexamine their goals and priorities, and revisit their collective vision for student learning. Whether you are a superintendent, teacher, or parent, you'll be challenged to rethink and refocus your work to ensure students are truly ready for anything! Coupled with real stories and examples from schools and districts that are preparing future-ready students, Suzette's four touchstones offer a persuasive framework to start an authentic conversation with your colleagues about what really matters in schools."