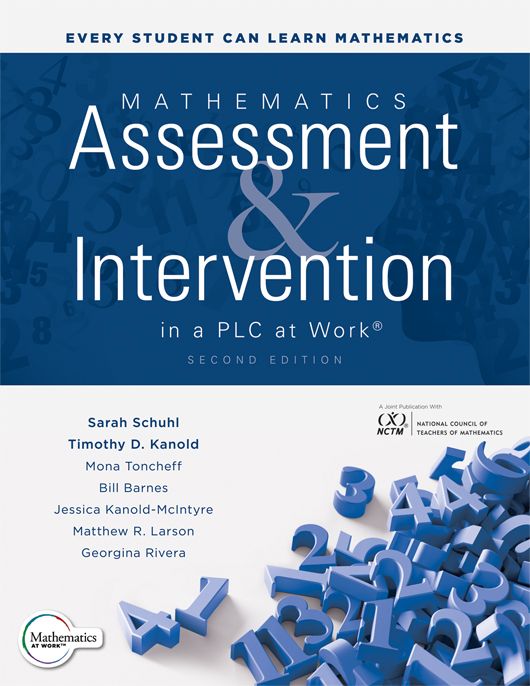 Mathematics Assessment and Intervention in a PLC at Work®, Second Edition
Develop a research-based math intervention program with common unit assessments. Increase student learning using the MTSS or response to intervention model to guide mathematics assessment.
Develop research-based mathematics assessment and RTI model (MTSS) interventions in your PLC
This second edition book from the Every Student Can Learn Mathematics series guides you and your collaborative teams in building student and collective teacher efficacy through the formative use of common assessments. Discover how you can work interdependently to design high-quality assessments, calibrate scoring of student work, and analyze data to enhance instructional practices and sustain effective Tier 2 learning experiences for students. New and enhanced protocols and examples provide practical tools and models for immediate implementation.
Improve your mathematics collaborative team assessment processes using the four critical questions of a PLC at Work® along with an RTI or MTSS focus on effective Tier 2 interventions.
This book will help K–12 mathematics teachers and teacher teams:
Learn the criteria for the formative use of all unit-by-unit common mathematics assessments
Identify essential learning standards as drivers for common assessments and student reflection
Design and use high-quality common assessments and team scoring agreements
Calibrate the scoring of student work for consistent formative feedback to students
Engage in data protocols that analyze student work to enhance instructional practices, identify students in need of targeted intervention or extension, and create effective intervention learning experiences
Determine how students can reflect and set goals using the formative feedback process based on common unit-by-unit assessments
Design and implement an effective Tier 2 mathematics intervention program to support student learning
Related Topics
AssessmentMathematics at Work™Professional Learning Communities at Work®Professional Learning Communities
---
Additional Information
Product Code: BKG146
ISBN: 9781958590638
Published By: Solution Tree
Page Count: 168
"Improving student achievement in mathematics is not achieved through having textbook fidelity, purchasing supplemental intervention programs, or hiring additional staff. What it takes is deep commitment to the collaborative assessment and intervention practices and processes that are proven to accelerate both student and adult learning. The authors of this outstanding resource break down, step by step, exactly how to ensure every student learns the rigorous mathematical thinking needed for their future."
"The authors offer practical guidance to dedicated mathematics teacher teams who want to stretch their mindset about assessment and grow their assessment practices. This book provides tools for reflection, discussion, and action to uplift assessment products and processes to ensure that every student can and does learn mathematics."
"Clarity + processes = empowerment. This is the equation teams will experience with this guide that provides teams with everything they need to refine their assessment and intervention practices. The authors provide practical, real-life examples that demonstrate how the processes are applied across a variety of grade levels. I see this as a go-to tool for every mathematics team!"
"Mathematics Assessment and Intervention in a PLC at Work is a must-have resource for educators. It is an in-depth, comprehensive tool for mathematics teachers, curriculum specialists, and administrators. Not only is this book organized in an accessible and engaging manner, but its practical applications and resources set it apart. Each chapter includes reflection opportunities, sample assessment tools and activities, as well as other resources crucial to implementing this work and improving student learning. The authors of this book are not only experts in the field of mathematics, but also practitioners, well versed in good instruction."
"Professional Learning Communities at Work is the best promise for equity in education, but we can't just say we are 'doing PLCs'; we have to actually do the work. This book will surely become the go-to resource for your mathematics teachers when it comes to creating common assessments aligned to essential standards, analyzing those assessments, and providing targeted interventions that address students' knowledge gaps."