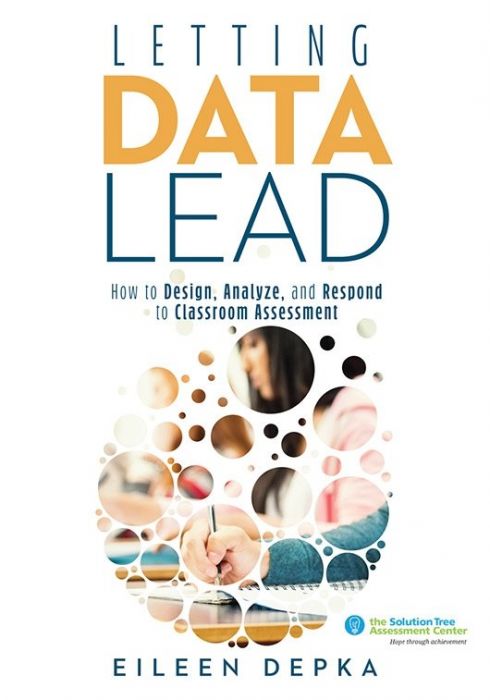 How to Design, Analyze, and Respond to Classroom Assessment
Build a culture of purposeful assessment design and data analysis for student learning. Drive student achievement in your school or classroom with a systematic approach to conducting effective assessments, collecting meaningful data, and taking action based on the results.
Gain actionable insights through effective assessment methods and data interpretation
Rely on Letting Data Lead by Eileen Depka to help you build a culture of school data analysis and interpretation, data-driven instruction and assessment techniques, and student achievement. This practical resource clearly outlines a systematic approach for meaningful student data collection through quality classroom assessment methods. The included assessment techniques, tools, templates, and specific examples are designed to empower educators to turn gathered information into immediate, thoughtful action.
Develop data-collection and analysis methods for effectively tracking student progress and fostering student success:
Obtain templates and analysis methods for collecting, interpreting, and responding to assessment data.
Define the purpose of assessments to distinguish between when a response is needed and when a response is not essential.
Design assessment of student learning in a way that creates actionable insights and pinpoints where students are struggling.
Consider practices that support the systematic approach to responding to student results with data-driven instruction.
Build a classroom culture where students react to their personal data, set goals, and engage in critical thinking.
Related Topics
---
Additional Information
Product Code: BKF839
ISBN: 9781947604193
Published By: Solution Tree
Page Count: 160
"Drawing on her deep knowledge of curriculum, instruction, and assessment, Eileen Depka offers educators practical, relevant gifts through this rich book. Providing step-by-step instructions, Depka assists readers in designing the highest-quality assessments―but that is just the beginning. For teachers and leaders who question, 'Here's the data. Now what?' Depka offers strategies and procedures for linking data with specific, sustainable responsive action. Letting Data Lead will help teachers and their students transform data into information and ignite the motivating power of setting goals for learning and achieving them."
"I have been using the following expression for years: 'No data, no decision.' However, it seems as though nobody has been listening until now. Eileen Depka's book Letting Data Lead: How to Design, Analyze, and Respond to Classroom Assessment is precisely what schools need as a call to action. Educators have been collecting data for years, and now with Eileen's practical guide, they should be better prepared as they plan their assessments and turn the data into actionable items to truly make a difference."
"This is the book that many teachers are looking for, the book that makes data analysis both practical and effective. In Letting Data Lead, Eileen Depka shares a host of examples of ways teachers can make sense of both formative and summative results that will help them develop effective responses for their students. The book is packed with specific strategies that can be used to collect and arrange data that will lead directly to actions teachers can take in their classrooms or with their teams."
"Letting Data Lead is an essential read for anyone in a school, team, or grade level that suffers from the DRIP syndrome―data rich, but information poor. There is typically no shortage of data that we have access to; the challenge is using that data in meaningful and thoughtful ways. Eileen Depka argues that action would make for a perfect synonym for data, and this book provides practical and pragmatic ideas and examples on how to use and respond to data in real time and in purposeful ways."