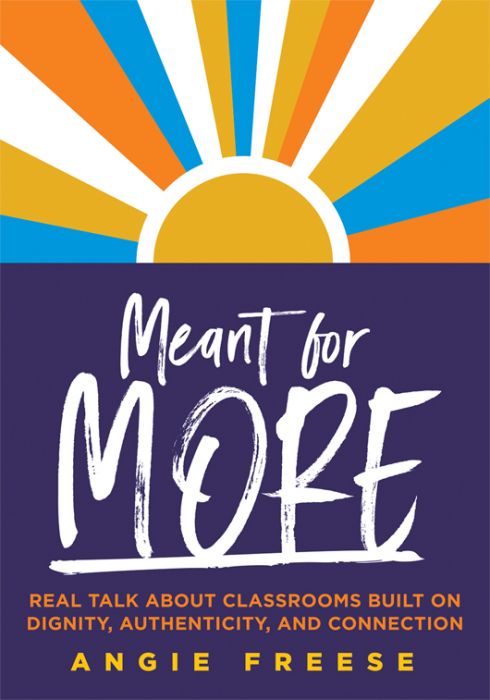 Real Talk About Classrooms Built on Dignity, Authenticity, and Connection
"Students rarely underperform when conditions are set up for their academic, cultural, and emotional success," writes author Angie Freese. Get the tools and strategies you need to cultivate a classroom culture where student voice is valued in a dignified, authentic, and connected learning environment.
Availability:
This product will ship in December
Publication date:
Overcome educational inequity and ensure authenticity and relevance in classrooms
Discover a team-oriented approach for reshaping classrooms into spaces where each student is seen, valued, and empowered to learn. Author Angie Freese offers a readiness framework for building a classroom community that honors the unique perspectives, experiences, and assets of each learner. Practical strategies and tools embolden educators to create inclusive learning environments built on dignity, authenticity, and connection.
This book will help you, as a K–12 teacher or administrator:
Explore the attributes and core tendencies that evolve within Meant for More classrooms
Study the infrastructure needed to elevate each attribute into learning environments
Recognize and celebrate your individual strengths and assets
Lean into vulnerability regarding the barriers to district, school, and classroom success
Use a continuum to monitor your comfort level with each attribute discussed
Bring student voice into the dialogue around meaningful, relevant classroom instruction
Related Topics
---
Additional Information
Product Code: BKF985
ISBN: 9781951075712
Page Count: 312
"This manuscript is a breath of fresh air in so many ways as it highlights so many important aspects of education, yet from an authentic and genuine viewpoint. It highlights areas that matter tremendously in getting to the heart of what is happening on a daily basis in our schools."
"This book is a real game changer for teachers, guiding us back to what matters most: being real, making genuine connections, and staying strong, curious, and kind in the classroom. It's all about finding your own voice, bouncing back, and remembering to give yourself a break—reminding us that teaching's as much about heart as it is about smarts."
"Meant for More offers a comprehensive and uplifting vision for classroom and school communities that reflects the humanity both teachers and students deserve. Angie provides tangible and practical tools for educators to honestly interrogate who they are and what they bring to their educational contexts. This research-based resource is equal parts personal, practical, and aspirational and it offers strategies and approaches that ensure readers understand that they and their students are meant for more."