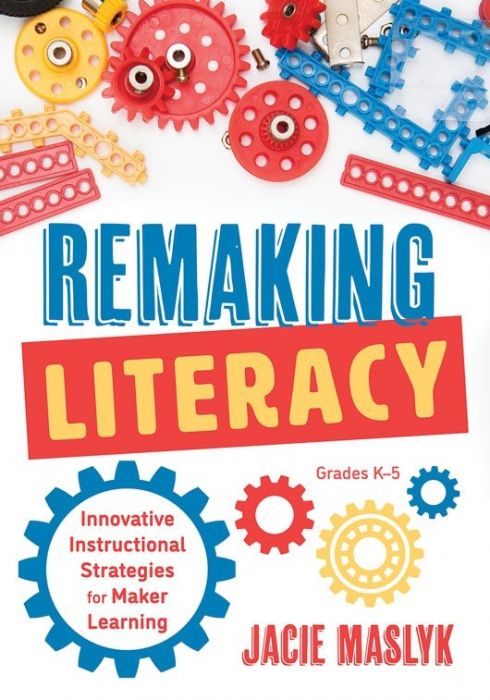 Innovative Instructional Strategies for Maker Learning, Grades K–5
Transform how you teach literacy in elementary classrooms by integrating makerspace ideas and hands-on learning experiences designed to deepen student understanding and reading comprehension.
Classroom Maker Projects for Elementary Literacy Education
Maker education—an instructional approach that emphasizes hands-on learning—empowers students to become passionate, creative thinkers. In Remaking Literacy, author Jacie Maslyk details how to transform literacy teaching and learning by integrating maker-centered learning projects for elementary classrooms. Rely on the book's tools and strategies to help you construct innovative opportunities for students to boost comprehension, increase vocabulary knowledge, and improve writing skills.
Apply the concepts of maker-centered learning and projects to your literacy education:
Examine the ways maker education and project-based learning (PBL) can enhance teaching and empower student engagement and learning.
Learn how to reimagine instruction to ensure students build crucial literacy, collaboration, and thinking skills.
Study various low-tech and low-cost strategies and how to utilize them in flexible learning spaces or makerspaces in the elementary classroom or school.
Receive checklists and planning tools for incorporating a maker education curriculum in your classroom reading activities.
Reflect on the literacy activities and makerspace ideas presented by answering reflection questions at the end of each chapter.
Related Topics
21st Century SkillsInstructionLiteracy
---
Additional Information
Product Code: BKF890
ISBN: 9781947604698
Published By: Solution Tree
Page Count: 200
"Offered as a practical guide for elementary educators ready to transform literacy instruction, Remaking Literacy is a must-add book for a classroom teacher's bookshelf. With ready-to-implement ideas backed by research and practice, Jacie Maslyk supports readers to be curious designers as they tinker and explore with innovative ways of thinking and teaching."
"Maslyk's book is a must-have for all K–5 teachers who want to add a different spin to literacy in their classrooms. Remaking Literacy infuses literacy concepts into the world of making. This book is a must-read if you are a maker or need new ways to spark students' writing."