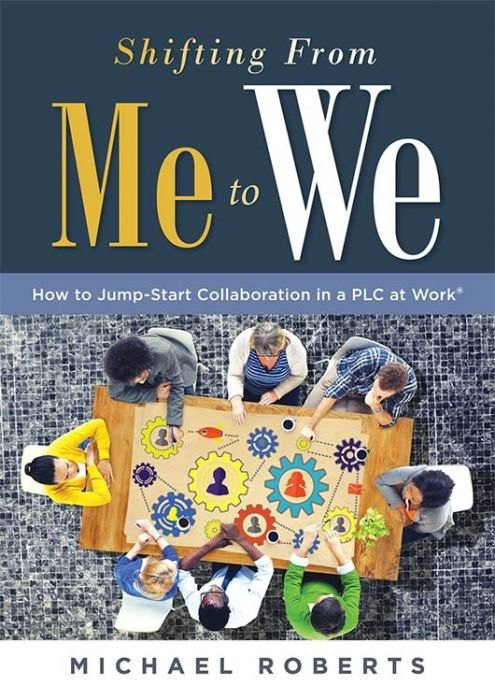 How to Jumpstart Collaboration in a PLC at Work®
Build the foundation of a true PLC by fostering a strong, collaborative culture across your school community. This guide helps collaborative teams implement PLC best practices for continuous improvement, helping K–12 students reach their learning targets.
A straightforward guide for establishing a collaborative team culture in professional learning communities
Rely on this straightforward guide to help you build the foundation of a true professional learning community (PLC). Packed with answers to common questions, Shifting from Me to We guides leaders at all levels in fostering a strong, collaborative culture. Author Michael Roberts details how to navigate major roadblocks, develop team best practices, and commit collective efforts to continuous improvement.
Become familiar with the skills and concepts necessary to build a strong collaborative foundation for your PLC.
Study the strategies and methods used by schools that have successfully implemented a rigorous and thorough PLC process.
Utilize the book's concepts and skills to experiment and develop customized procedures and strategies as a collaborative team.
Receive concrete learning targets that will help you develop your own process of PLC implementation.
Understand how to effectively spread the message of your PLC to your school board, parents, and community stakeholders.
Related Topics
LeadershipProfessional Learning Communities at Work®Professional Learning Communities
---
Additional Information
Product Code: BKF946
ISBN: 9781949539851
Published By: Solution Tree
Page Count: 160
"You know a book is great when you are asked to review it and you find yourself jotting down numerous ideas that will significantly impact other educators. Michael has written this very readable book, filled with practical ideas on how to break down complex tasks—such as creating a shared vision or getting a school board to understand PLCs—into concise and very doable processes. While reading, I also really appreciated the processing questions and space Michael gives readers to reflect on our learning while we continue the journey from me to we."
"This book is a must-read for all school and district leaders who want to move their students forward. Michael Roberts has packed his book with ideas to do right now that will help any school move forward. His easy-to-follow guide will not only ensure student success but will get all staff members on board and truly move to a we culture."