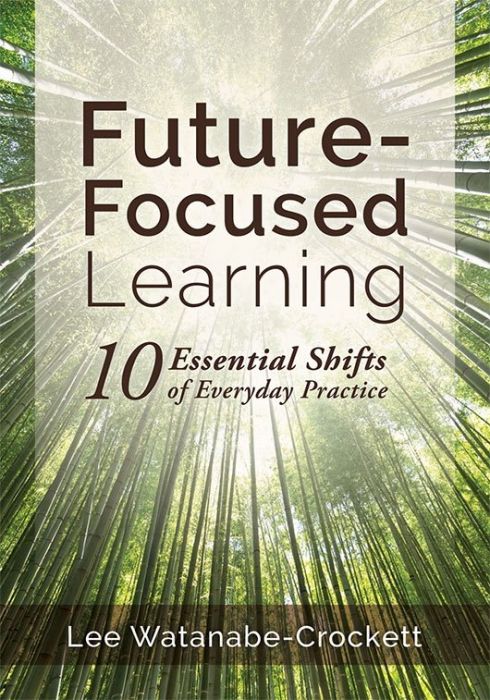 Ten Essential Shifts of Everyday Practice
With Future-Focused Learning, you will discover ten core shifts of practice, alongside smaller, actionable steps, that will take the great work you are already doing and make it exceptional. Shift instruction to focus on student-centered learning competencies to support critical thinking and digital skills.
Shift your teaching practices to support authentic learning for the 21st century
When educators embrace student-centered learning, classrooms transform, authentic learning comes alive, and outcomes improve. A culmination of Lee Watanabe-Crockett's ten-plus years of work with schools around the world, Future-Focused Learning details ten core shifts of practice—along with simple microshifts—you can use with your students immediately, regardless of your core curriculum or instructional pedagogy. These proven shifts offer a clear pathway for taking the great work you are already doing and making it exceptional.
Use this book to improve student-centered learning in the classroom and support authentic learning outcomes for the 21st century:
Study over 50 specific examples of classroom microshifts that make the larger shifts in practice simple to achieve as a collective group.
Connect the six essential fluencies—solution fluency, information fluency, creative fluency, media fluency, collaboration fluency, and global digital citizenship—to the shifts of practice that develop students' key 21st century skills and higher-order thinking.
Explore topics in student-centered learning competencies such as project-based learning, essential questions, STEM education, and digital skills.
Learn why fostering connections to learning—from improved emotional connections to personalized learning—improve student-centered learning outcomes and higher-order thinking.
Improve formative assessment practices to be more mindful, ask the essential questions, and further student engagement by involving them in the assessment process.
Access an exclusive online bonus chapter that examines the value of solution fluency across a range of applications.
Related Topics
21st Century SkillsInstruction
---
Additional Information
Product Code: BKF807
ISBN: 9781945349584
Published By: Solution Tree
Page Count: 184
"At last, a book that bridges the gap between the realization that education must change and the real work of transforming it. Future-Focused Learning provides a clear guide for building teacher capacity. By implementing Lee Watanabe-Crockett's highly effective coaching processes, I have seen professional transformation take place in the form of renewed teacher practice and increased student engagement. If you strive to transform teaching and learning based on depth of inquiry, collaboration, and creativity, you must engage with this book."
"Teachers at any stage in their career can benefit from Future-Focused Learning. I can open to any chapter and find a valuable instructional shift and the reasoning behind it. Each strategy works with any content, grade level, or curriculum and results in increased agency for my students and more fun teaching for me!"
"Future-Focused Learning takes teachers on a personal learning journey. Lee Watanabe-Crockett speaks directly to teachers, inviting them to shift their practice in accessible and meaningful ways with maximum impact for the students they teach."
"Future-Focused Learning has a gentle approach to challenging thinking while providing easy-to-implement suggestions that have great potential to impact student learning and increase success. The book provides guidance to understand and accept new practices, then includes classroom activities that will make them effective."
"Lee has found a way to do what all the gurus from the era of Bloom's taxonomy haven't achieved—alter teaching practice to reach the upper layers of the taxonomy. For teachers looking for one read on how to alter practice without changing pedagogy, while still maintaining a strong moral compass, this book will guide them on their journey."
"Many teachers appreciate that teaching literacy skills is not enough to equip and empower the modern-day learner but remain uncertain about what and how to change. The result is to default to conventional practice. In Future-Focused Learning, Lee Watanabe-Crockett provides the toolkit for teachers to move from proficient to dynamic in order to equip and empower the modern-day learner. It makes the overwhelming become achievable by providing practical guidance for teachers to shift their practice in gradual steps."
"While others still debate what a 21st century curriculum is, Lee Watanabe-Crockett brings educators on a journey from why to how, from fluencies to shifts of practice. It's a journey through which educators can use a highly effective method of engaging learners in complex thinking to achieve outcomes thought unimaginable only a few years ago."
"Any teacher, from beginner to veteran, will find practical and proven ideas for invigorating their teaching and enlivening student learning."
"Future-Focused Learning will take a school or division on a journey away from initiative fatigue and toward a transformation of practice and learning. It's an excellent choice for a staff book study, as the ideas Lee Watanabe-Crockett presents apply and connect to all subjects in any school interested in an intentional, collective, and collaborative pathway toward change. A must-read for any educator!"
"Future-Focused Learning is a rare book that reads like a story but is actually a field guide for transforming schools. Lee's work deals with the systemic issues inherent when inventing new institutional forms, social practices, and skills, a process we badly need in education. I have seen its ideas work as it transformed 2,700 students and 300 faculty in one of the most high-profile schools in the world. I highly recommend you read and more importantly use this book in your community of learning."
"Future-Focused Learning succinctly summarizes the key shifts happening in education. With a focus on the practitioner, the chapters offer practical suggestions, tools, and activities to nudge educators to embrace these shifts as opportunities to propel their practice."
"In this book, Lee Watanabe-Crockett continues to focus on the how, not just the why, when designing instruction for contemporary classrooms and schools. The ten shifts and the microshifts in this book will inspire all future-focused educators to take the next step in their own professional transformation. Educational leaders should view this book as a road map to influence teachers and motivate modern learners."