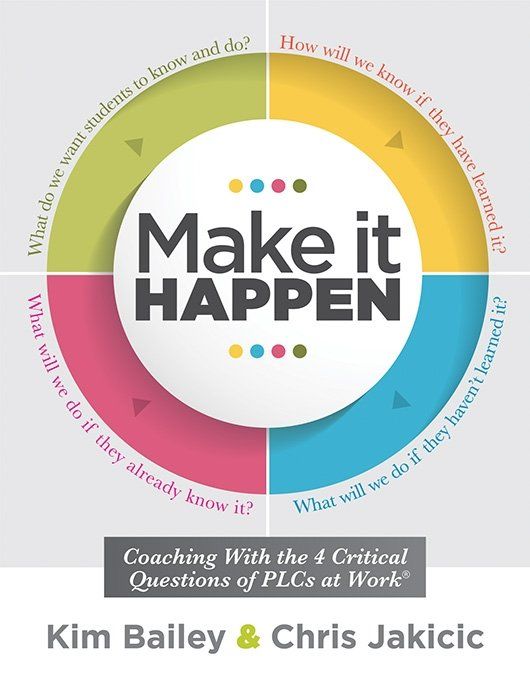 Coaching With the Four Critical Questions of PLCs at Work®
Discover powerful instructional coaching tools, strategies, and processes aligned to the four critical questions of Professional Learning Communities at Work®. Ensure all collaborative teams in your PLC school are engaged in the right work to support student learning.
Publication date:
Only %1 left
Professional learning community strategies for instructional coaches
Ensure every educator is engaged in the right work with a collective focus on improved student learning. Aligned to the Professional Learning Communities (PLC) at Work® model, this resource includes instructional coaching tools, processes, protocols, templates, tips, and strategies designed to support the multidimensional work of instructional coaches and PLC training. Each chapter includes action steps and reflective coaching activities, as well as suggestions for navigating some of the most common issues instructional coaches face.
Use this book to understand the unique requirements of instructional coaches in building a school that answers the four critical questions of a PLC at Work:
Learn how to provide PLC training and professional development for collaborative teacher teams.
Study three major variables that will affect instructional coaching—capacity, culture, and context—and four major actions that will act as guiding principles.
Explore issues that can arise in PLC schools, as well as teacher coaching strategies to help resolve these issues.
Deepen your understanding of instructional coaching in a PLC with helpful online reproducibles and teacher coaching tools.
Acquire capacity-building strategies aligned to the four PLC questions.
Related Topics
InstructionLeadershipProfessional Learning Communities at Work®Professional Learning Communities
---
Additional Information
Product Code: BKF840, EKF433
ISBN: 9781947604216
Published By: Solution Tree
Page Count: 248
"In Make It Happen, Kim Bailey and Chris Jakicic provide coaches with practical strategies for helping teacher teams identify and unpack essential standards, create and utilize common assessments, and develop interventions and extensions to ensure student learning. Grounded in research, this book offers step-by-step processes, powerful tools, and concrete examples to help teams make it happen for their students."
"With their practical and insightful book, Make It Happen, the authors offer an important contribution to PLC literature. They provide clarity and support to the PLC process and add definitional rigor to a much-misunderstood term, coaching. The tools and strategies in this resource will add depth and focus to every instructional plan. Don't just read this book—study it, apply it, and devour it."
"With Make It Happen, Kim Bailey and Chris Jakicic offer another straightforward, enlightening, and practical resource supporting the diverse roles of instructional coaches in all fields of education. It focuses on three variables that ultimately impact the effectiveness and success of an instructional coach: capacity, culture, and context. Embedded in the foundations of PLCs, readers will see the significance of instructional coaches working in a collaborative environment focused on student learning and achievement."
"Make It Happen not only defines what good coaching looks like, it also demonstrates how coaching can positively impact teaching and learning. The visuals, protocols, and reflection opportunities in this book will help school leaders and coaches learn together, focus their work, and provide clarity and support for collaborative teams. Through shared leadership, collective inquiry, and mutual ownership, schools and districts will begin to see improved and sustainable results for students."