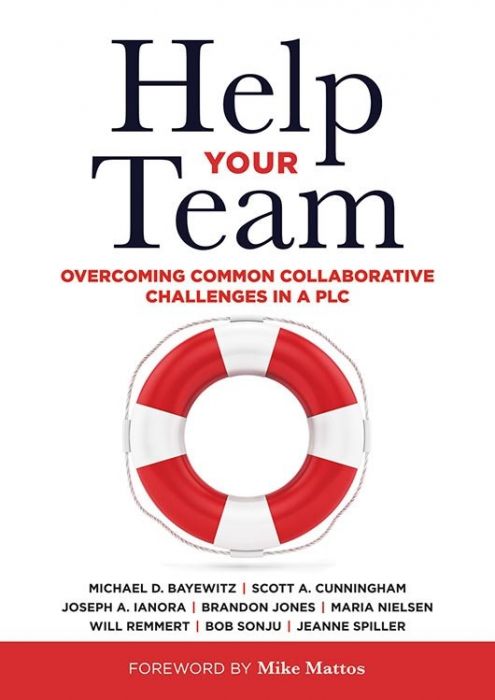 Overcoming Common Collaborative Challenges in a PLC at Work®
Overcome common struggles encountered by collaborative teams in PLCs with this book written by Professional Learning Communities at Work® experts. This practical book will guide team building for teachers and staff in order to create highly effective teams committed to learning for all.
Add this eBook to your credit card purchase and gain immediate access.
eBooks are available on desktop, Android, and iOS via Adobe Digital Editions. eBook purchases are limited to one eBook per title, per account. Please visit the eBook FAQ for more information.
Publication date:
Only %1 left
Supporting teacher team building and collaboration in a PLC at Work®
Build a strong, highly impactful team committed to learning for all. Written by eight Professional Learning Communities at Work® experts, this practical guide addresses the most common challenges educators face when building collaborative teams and working collaboratively. Each chapter offers a variety of templates, processes, and strategies to help your team resolve conflict, focus on the right work, and take collective responsibility for student learning.
Rely on this book to troubleshoot collaborative learning and team development in your PLC:
Gain an understanding of the PLC framework and the unique qualities of effective collaborative work.
Learn about collaborative teams, what goes into making them, and how to utilize them effectively to drive change and professional development for teachers and other educators.
Become familiar with the ways in which interpersonal issues affect collaborative teams, and gain collaborative tools for conflict resolution and team building for teachers and staff.
Learn how a toxic work culture can contribute to the failure of collaborative learning and how to combat this toxic school culture.
Explore how educators in nontraditional schools or singletons can use the collaborative process to their advantage.
Related Topics
LeadershipProfessional Learning CommunitiesTeams
---
Additional Information
Product Code: BKF886,EKF449
ISBN: 9781947604612
Published By: Solution Tree
Page Count: 176
"The authors of Help Your Team are highly successful and knowledgeable education leaders who have come together as a team to write a powerful and practical book. If you want to help your team and improve your school, read what these real-world experts write. They have done the work, and we are fortunate that they have shared their collective wisdom with us."
"Help Your Team is a must-read for anyone leading the professional learning community (PLC) process in his or her school. The book is powerful yet practical. It provides tools and procedures for coaching both teams and individuals, and it helped me discover how to overcome some major barriers I'm currently facing in my school's journey. Students will benefit the most from the strategies in this book."
"Help Your Team is a welcome resource for teachers, leaders, and administrators looking for specific, practical strategies to help teams on their PLC journey. Through their collective experience, the authors understand the challenges teams face in implementing a high-functioning PLC. By providing real-world examples, research-based solutions, and thoughtful advice, the authors show educators how to overcome challenges and reach new heights to ensure high levels of learning for all students."
"Help Your Team describes various situations that can affect and challenge teams in a professional learning community (PLC). The team is the fundamental tool that accomplishes the primary goal of the PLC—ensuring students learn at high levels. However, a fully functioning and efficient team does not happen simply by telling teachers to work together in a team. The authors provide anecdotal evidence of situations in schools, followed by an analysis of the team's behavior and how to address that behavior. The explanations are clear, concise, and easy to follow. The book offers several guidelines and forms to help in the planning and implementation of team strategies and addresses the critical need of teacher leaders as they try to establish and improve school teams."
"Great book! For those of us in the trenches, this book has wonderful ideas that truly make a difference in helping our PLC teams. Too many times, books focus on philosophies or ideas without giving practical, 'this is how you do it' advice. The tools I found in this book I can use at any time with my team, and they help me get results."