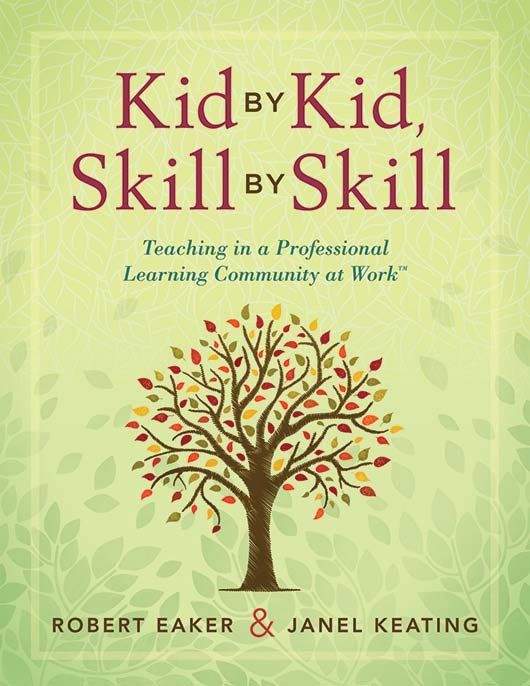 Kid by Kid, Skill by Skill
Teaching in a Professional Learning Community at Work™
This book explores PLCs from a teacher's perspective, focusing on best instructional practices, collaborative team actions, and lasting commitment to success.
Add this eBook to your credit card purchase and gain immediate access.
eBooks are available on desktop, Android, and iOS via Adobe Digital Editions. eBook purchases are limited to one eBook per title, per account. Please visit the eBook FAQ for more information.
Publication date:
Only %1 left
Kid by Kid, Skill by Skill
Written for all educators, this book explores professional learning communities from a teacher's perspective. Focused chapters survey effective and collaborative team actions, instructional practices that enhance teacher efficiency, and the role teacher judgment and classroom context play in determining instructional outcomes. The authors show that shifting teachers' focus from teaching to learning creates a lasting commitment to PLC success.
Understand the positive effect the PLC at Work™ process has on improving school culture, staff morale, and student achievement.
Use collaborative teams to boost teacher and student expectations and foster an environment that promotes higher-level learning for all students.
Explore how teachers' continued learning positively influences student learning.
Learn strategies to engage students and assess their progress.
Explore the challenges—and ultimate failure—of school improvement efforts in traditional schools, and realize how PLCs overcome these challenges.
Related Topics
InstructionProfessional Learning Communities at Work®
---
Additional Information
Product Code: BKF694, EKF302
ISBN: 9781942496373
Published By: Solution Tree
Page Count: 224
"Kid by Kid, Skill by Skill is a book that was clearly written for classroom teachers. Chapter by chapter, Janel Keating and Bob Eaker introduce readers to the role that core instructional practices—things like providing meaningful feedback, creating differentiated lessons, and delivering frequent formative assessments—play in highly effective classrooms. What's more, chapter by chapter, readers are left convinced that the best way to strengthen instruction is to engage in collective inquiry as a contributing member of a professional learning team. Anyone interested in improving their practice—as a teacher or as a collaborative partner—will find real value in this text."
"Eaker and Keating put a spotlight on the most important members of any professional learning community—teachers. They examine the role that teachers play in making sure that learning is the focus in these communities by looking closely at the types of tools that they carry in their toolbox, how they create a learning environment that promotes the acquisition of knowledge and skills, and how they collaborate to make sure that what each does well is shared with other members of the team. Vivid and relevant examples of best teaching practices are provided along the way that will provide a clear set of blueprints for those interested in recruiting a strong construction crew to assist in building their own professional learning community or for those who wish to enhance the quality of an existing community."
"Every teacher should read Kid by Kid, Skill by Skill by Robert Eaker and Janel Keating. Not only do the authors de-mystify the role of teachers in a professional learning community (PLC), they offer a succinct summary of the research on effective teaching and classroom management that will prove invaluable to teachers. The best professional development is ongoing, job embedded, and teacher led. Eaker and Keating provide a wonderful description of how the PLC process fosters such professional development. They then offer research-based teaching techniques that members of collaborative teams can work on together to enhance their individual and collective expertise. This is a great read!"
"The book is well planned out. It offers individuals new to the PLC model great examples. The comparisons regarding traditional and PLC models provides clarity for all exploring a collaborative process of student and teacher growth. This is a book I would highly recommend for those moving toward a PLC model and for those who are pondering how to support teachers who are hesitant."
"The culture of a school reflects the professional tone set by educators. When teachers come together in professional learning communities for the shared purpose of ensuring that all children learn well, the school's culture reflects their positive perspective and value for the opportunity to teach. Kid by Kid, Skill by Skill: Teaching in a Professional Learning Community at Work offers insights that inform educators about collaborative processes that make a real difference with learners. The PLC commitment begins with each individual, but the journey must be a team effort."
Free Resources
Explore these powerful tools to help reach your goals.