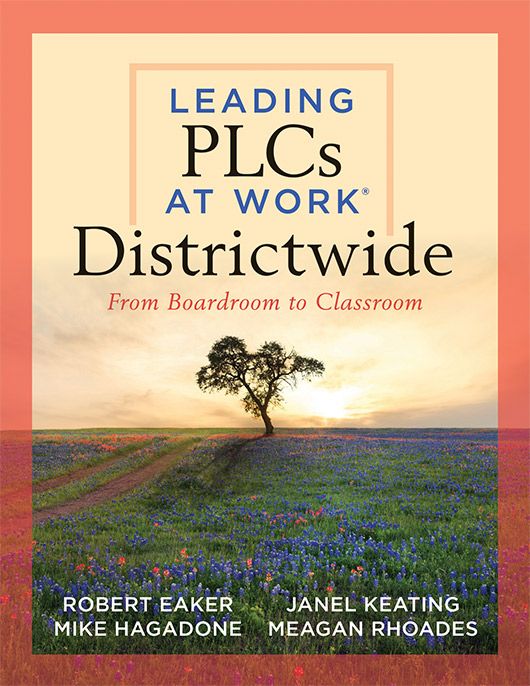 Leading PLCs at Work® Districtwide
From Boardroom to Classroom
With this leadership resource as a guide, you will learn how to align the work of every PLC team within your district. Inspire professional learning communities to achieve continuous improvement and a guaranteed and viable curriculum for every student.
Add this eBook to your credit card purchase and gain immediate access.
eBooks are available on desktop, Android, and iOS via Adobe Digital Editions. eBook purchases are limited to one eBook per title, per account. Please visit the eBook FAQ for more information.
Publication date:
Only %1 left
A leadership guide for teams districtwide to collaborate effectively for continuous improvement and high levels of learning for all students
Ensure your school district is doing the right work, the right way, for the right reasons. With this resource as your guide, you will learn how to align the work of every PLC team districtwide—from the boardroom to the classroom. Each chapter focuses on one of four types of teams and provides practices and tools for working together to foster a districtwide culture of continuous improvement.
Use this resource to align your district's work in a top-down, bottom-up cyclical process:
Learn the leadership role the district office plays in supporting successful PLC at Work implementation and school-improvement efforts.
Observe how collaborative teams at every level align their work districtwide to ensure high levels of learning in professional learning communities.
Study real-life examples and artifacts of best practices in action.
Receive protocols and templates, such as the Team Analysis of Common Assessment (TACA) form, to move student learning forward.
Review a process for establishing a guaranteed and viable curriculum, and discover strategies for analyzing student learning and making data-informed decisions.
Related Topics
LeadershipProfessional Learning Communities at Work®Professional Learning CommunitiesSchool Improvement
---
Additional Information
Product Code: BKF942, EKF505
ISBN: 9781949539714
Published By: Solution Tree
Page Count: 168
"This book is a no-nonsense call for clarity and collaboration in educational leadership. Eaker, Hagadone, Keating, and Rhoades demonstrate how any district can align its practices and transform student learning."
"A must-read for school leaders who intend to improve student learning by implementing the PLC process districtwide. The authors outline a comprehensive structure for districtwide alignment filled with tools, strategies for best practice, and examples that provide a powerful pathway for success."
"By implementing the strategies in this guide, our district has been recognized not only both regionally and nationally as a model PLC district, but more importantly, has shown outstanding student growth and achievement. The strategies outlined in this book have positioned our educational professionals to truly address the learning needs of every child."