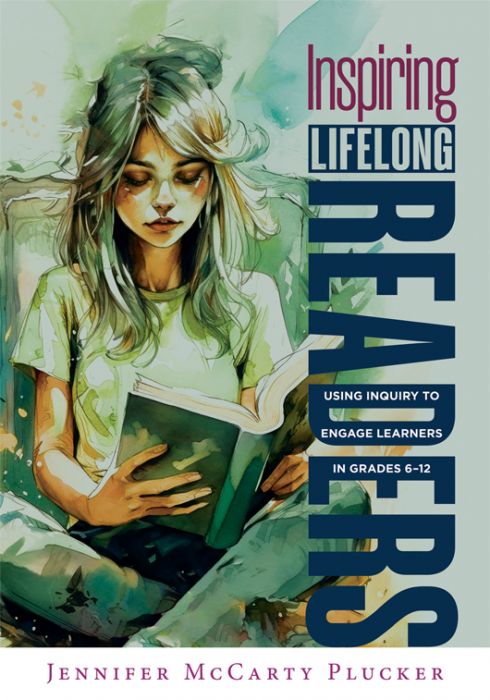 Inspiring Lifelong Readers
Using Inquiry to Engage Learners in Grades 6–12
Featuring stories from the field and reproducible tools, Inspiring Lifelong Readers emphasizes the importance of reading and creating a community of readers, writers, communicators, and thinkers. This book will help you navigate the demands for students' attention and enhance student engagement in literacy.
Practical, evidence-based strategies to advance literacy learning and student engagement
Research shows that secondary students need daily opportunities to engage in reading, writing, and communicating to improve reading success. Inspiring Lifelong Readers equips teachers with literacy strategies that achieve lasting results. Grounded in practices that promote adolescent literacy, inquiry, motivation, inspiration, and engagement, this book offers tried-and-true, evidence-based strategies that support students in becoming competent, confident, and engaged readers.
This book will help grades 6–12 teachers and administrators:
Access practical strategies and reproducible tools to support literacy instruction
Implement the inquiry approach and workshop framework to effectively advance the literacy skills of all readers
Curate a classroom library of diverse, inclusive books and other texts that pique students' interests
Celebrate student accomplishments by rewarding met goals and continued progress
Understand the physical and social-emotional classroom environments that create the ideal conditions for literacy engagement
Related Topics
InstructionLiteracyStudent Engagement
---
Additional Information
Product Code: BKF947
ISBN: 9781949539875
Published By: Solution Tree
"Jennifer McCarty Plucker is the consummate scholar-practitioner and a master storyteller. Her book Inspiring Lifelong Readers weaves together a classroom tapestry of student agency and engagement that will inspire teachers and leaders to raise expectations for themselves and their students. Plucker's vulnerability in sharing her misconceptions, mistakes, and growth serves as an inspirational model for all educators. For anyone who cares about student engagement and agency, and is interested in student-centered, inquiry-based literacy instruction, this book is a must read!"
"Inspiring Lifelong Readers is a how-to for teachers who want to support adolescent students in becoming engaged and motivated readers. Filled with practical strategies and reproducible tools to implement inquiry-based literacy learning, this book offers insights and expertise for planning lessons, establishing classroom structures and routines, and creating the environment for choice, voice, and engagement. It is the kind of book teachers will come back to again and again."
"Inspiring Lifelong Readers blends personal experience, research-based practices, and practical tools to enrich the literacy lives of students. Both district leaders and classroom teachers will benefit from Plucker's expertise. She guides readers in how the inquiry approach can deepen a student's thinking with complex, thought-provoking questions, and shares resources that teachers can immediately implement in their classrooms."
"If you've noticed that compliance doesn't necessarily mean that students are engaged and you're ready to let go of a little control to increase student engagement, Inspiring Lifelong Readers is a great first step. Jennifer McCarty Plucker clearly describes systems and structures enabling students to take more ownership of their literacy learning. Readers will find a wealth of resources to scaffold learning for all levels of readers. If you're ready to let your students work a little harder and have more agency, this book is for you."
"In Inspiring Lifelong Readers, author Jennifer McCarty Plucker gives secondary educators the gift of her passion and insights into teaching literacy with heart and intention. This book is pragmatic, inspirational, and most importantly, relevant to the current landscape of educating youth in a complex environment. It is simply brilliant!"