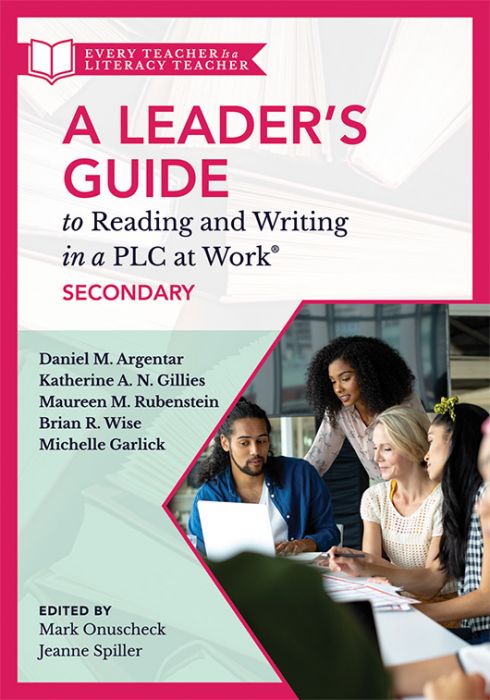 A Leader's Guide to Reading and Writing in a PLC at Work®, Secondary
Discover how leaders can establish a culture that supports effective reading and writing strategies for grades 6 through 12. This guide outlines how to take urgent action to increase literacy rates and student learning outcomes in your professional learning community (PLC).
Add this eBook to your credit card purchase and gain immediate access.
eBooks are available on desktop, Android, and iOS via Adobe Digital Editions. eBook purchases are limited to one eBook per title, per account. Please visit the eBook FAQ for more information.
Publication date:
Only %1 left
Establish effective reading and writing strategies for students at the secondary school level
Take an active role in achieving and sustaining literacy improvement in your PLC. An essential leadership resource in the Every Teacher Is a Literacy Teacher series, this valuable guide outlines how to drive literacy instruction in a secondary setting. Learn how to support your collaborative teams, gather and analyze data, and ensure students can read and write at or beyond grade level.
This book offers leadership strategies for secondary literacy education that works:
Launch your journey to become a literacy leader with effective listening, learning, and engagement in active leadership.
Recognize the importance of data to new literacy-focused initiatives, reading instruction, and writing strategies.
Establish effective professional development and differentiated instructional strategies for effective literacy instruction across academic disciplines.
Measure literacy growth and sustain an environment of continual literacy learning to improve student learning outcomes.
Related Topics
InstructionLeadershipLiteracyProfessional Learning Communities at Work®Professional Learning Communities
---
Additional Information
Product Code: BKF910, EKF473
ISBN: 9781949539073
Published By: Solution Tree
Page Count: 160
"As a Model PLC high school, we engage in a continuous cycle of improvement to support the literacy of every student, by name and need. This literacy guide helps us do just that, supporting our leaders to challenge all our collaborative teams to share responsibility for literacy improvement in all content areas and at all levels."
"A necessary guide for school leaders who recognize that the only way to impact student achievement at the secondary level and in every subject area is through improving student literacy. This book presents the compelling argument of why literacy is a schoolwide effort, and it provides specific strategies to close the gaps between students who are proficient in essential literacy skills and those who are not."
"There are times as a leader when a professional reading crosses your desk, and it stops you in your tracks. A Leader's Guide to Reading and Writing in a PLC at Work, Secondary was one of those times for me. With essential guidance throughout, each chapter also includes invaluable next steps for leaders to support leading."
"A Leader's Guide to Reading and Writing in a PLC at Work®, Secondary offers education leaders a road map not only for establishing a foundation for literacy in schools but also for building a connection between disciplinary literacy and the work of a PLC. It's a fabulous, user-friendly resource for leaders at all levels!"