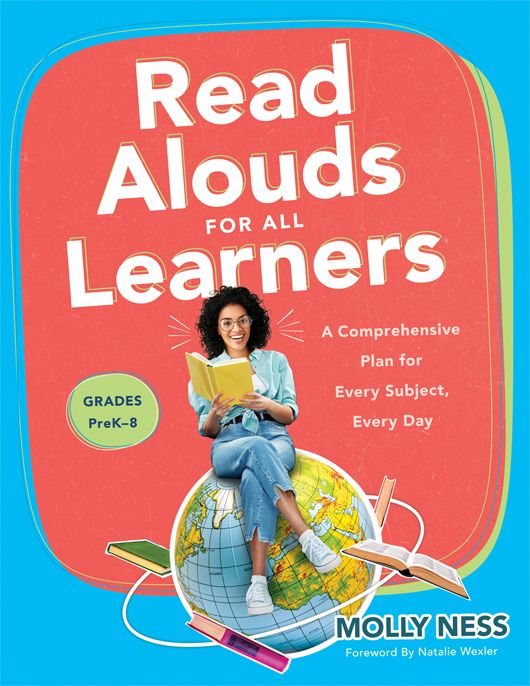 Read Alouds for All Learners
A Comprehensive Plan for Every Subject, Every Day, Grades PreK–8
Learn the step-by-step instructional plan for teachers to implement read alouds in preK–8 classrooms. Whether you're a longtime professional or new to teaching, this resource helps you support young learners emotionally, intellectually, linguistically, and developmentally.
Learn the step-by-step instructional plan for Read Alouds for All Learners
In Read Alouds for All Learners: A Comprehensive Plan for Every Subject, Every Day, Grades PreK–8, Molly Ness, supported by current research and personal experiences, demonstrates the sobering effect an absence of read alouds in classrooms has on preK–8 students' comprehension skills. She provides intentional directions on planning and implementing a read-aloud routine that supports young learners' literacy development, content-area knowledge, social-emotional learning, and academic achievement.
This book will help you:
Understand the role of read alouds in the science of reading
Develop understanding of the three-step planning process for a read aloud
See current read-aloud research and trends among elementary, middle, and high school teachers
Gain tips targeted for each age group's social-emotional learning and cognition
Capture the importance of read alouds in all content areas
Create a read-aloud plan for social studies, the sciences, mathematics, physical education, the arts, and electives with hands-on tools
Related Topics
---
Additional Information
Product Code: BKG116
ISBN: 9781958590034
Published By: Solution Tree
Too often reading aloud is considered the frosting on the cake, but Molly Ness shows us that the practice is a critical curricular component for students of all ages. She supports her argument with interdisciplinary research demonstrating the myriad benefits of reading aloud. I came away convinced that teachers can't afford not to read aloud to their students.
One of the best books I have read on how to develop a well-constructed read aloud. As a district instructional coach, who only uses practical, research-based methods, I am eager to use this invaluable resource and thrilled to add it to my professional reading collection.
Molly Ness provides extensive research to support the read aloud as a powerful instructional practice that nurtures students emotionally, intellectually, linguistically, and developmentally. She also shares a wealth of resources that includes a three-step process for planning a read aloud. I love that Molly offers different entry points depending on a teacher's experience with read alouds, providing examples of completed plans as well as age-appropriate strategies. I am a veteran teacher and this book will support me in moving my read alouds to a higher level to ensure my students grow both personally and academically.
Daily complex read alouds are essential in building students' knowledge and vocabulary and a key component of high-quality instructional programs. Molly Ness provides an easy-to-use planning template to maximum their impact in reading, science, social studies lessons, and other focus areas. This is a must-have resource for ALL teachers.
Essential and timely. This book summarizes the power of read alouds to enhance comprehension, language development, and other critical skills. The practical strategies and easy-to-use templates are fundmental instructional tools for all teachers.
Free Resources
Explore these powerful tools to help reach your goals.