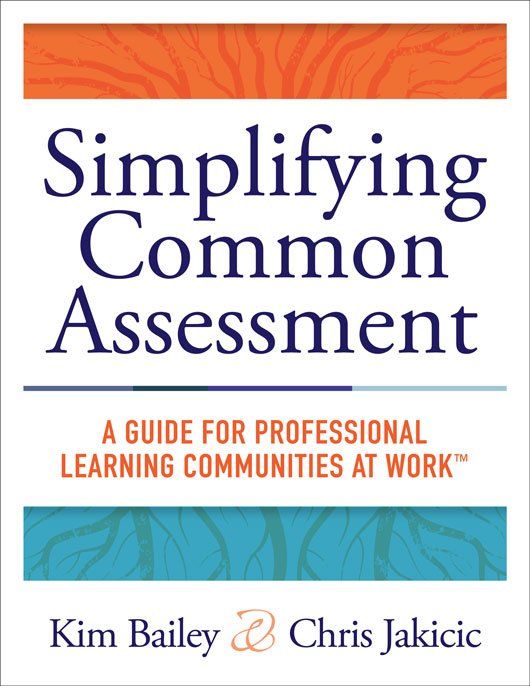 Simplifying Common Assessment
Discover how to write and use team-designed common formative assessments that help ensure all students master essential skills and concepts.
Add this eBook to your credit card purchase and gain immediate access.
eBooks are available on desktop, Android, and iOS via Adobe Digital Editions. eBook purchases are limited to one eBook per title, per account. Please visit the eBook FAQ for more information.
Publication date:
Only %1 left
Simplifying Common Assessment
Built on the process featured in Common Formative Assessment: A Toolkit for PLCs at Work™, this book demonstrates how educators can develop effective and efficient assessments. The authors simplify assessment development to give teacher teams the confidence to write and use team-designed common formative assessments that help ensure all students master essential skills and concepts.
Learn the different purposes that wide-angle questions and close-up questions serve in reaching assessment goals.
Understand different types of assessments and what the data gained from each of them can reveal.
Frame assessment and feedback methods to pursue the end goal of learning for all.
Use templates and protocols to unwrap essential standards, create performance tasks, plan appropriate assessments, and analyze data.
Discover a road map that can help guide your work with common assessments.
Related Topics
AssessmentProfessional Learning Communities at Work®
---
Additional Information
Product Code: BKF750, EKF352
ISBN: 9781943874453
Published By: Solution Tree
Page Count: 160
"Simplifying Common Assessment is the book that we have been waiting for—an articulate and clear resource that demystifies the common assessment process. Kim Bailey and Chris Jakicic provide teachers and collaborative teams with a user-friendly road map to carefully plan for, design, implement, analyze, and grade common assessments—the linchpin in the PLC at Work process. Simplifying Common Assessment is the essential resource for teachers and teams looking to enhance their collaborative efforts and use common assessments to improve student learning and achievement."
"By providing easy-to-follow templates, tools, and protocols for identifying essential outcomes, unpacking complex standards, and writing rigorous questions that reflect the higher level of thinking required by modern curricula, Simplifying Common Assessment has made it possible for my PLT to better study the impact that our instructional choices have on student learning. If clarity precedes competence in any core behavior—an argument often made by PLC expert Becky DuFour—then this text is a must-read for every team interested in relentlessly questioning their practice in service of student learning."
"Exceptionally practical resource! The book simplifies the process for designing quality common assessments and making the critical shift from focusing on teaching to focusing on learning.

"This book brings simplicity to what is often viewed as a complex process! Excellent support for collaborative teams in a cycle of continuous improvement.

"Excellent support for starting with the end in mind! Simple, practical, and easy applications for designing quality common assessments that allow collaborative teams to determine whether students acquire essential knowledge and skills.

"Brimming with practical applications for designing quality assessment measures of student learning! Well written for easy application as a collaborative team or as a singleton teacher. Simplifies what is often a daunting topic from the design process of a common assessment to utilizing data to support student learning.

"Addresses what is often a top concern for educators—designing quality common assessments of student learning. Simple and practical application no matter the grade level or content area you teach!"
"Easy to read and logically organized, this book can assist teams to deepen their knowledge of assessment literacy, strengthen conversations about using data, and guide them through the process of developing quality common formative assessments."
"This book is a gem for any educator who knows anything about assessment, and it's a must-read for those who are new to this work. Bailey and Jakicic have not only done their homework, they've sharpened their tools in the trenches, and they're eager to share them with us."
Free Resources
Explore these powerful tools to help reach your goals.