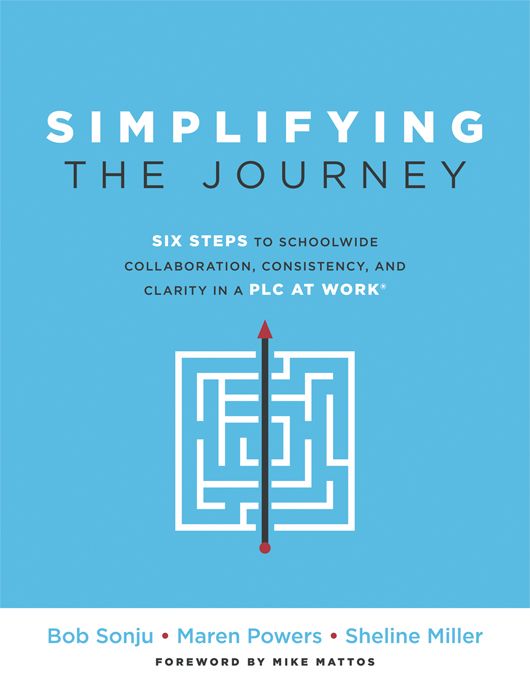 Six Steps to Schoolwide Collaboration, Consistency, and Clarity in a PLC at Work®
"Simplifying the Journey is not just another manual; it's a road map for teacher and team transformation," authors Bob Sonju, Maren Powers, and Sheline Miller write. Packed with strategies, tools, and step-by-step actions, this book is your go-to guide for efficient, productive collaboration among your teams.
A simple, doable road map for teachers and teams with practical actions you can apply for immediate results
Smart educators know simplicity is key to mitigating overwhelm and ensuring success. This book will help. Access the proven PLC at Work® process in a straightforward, easy-to-implement guide. Designated actions and essential steps for teachers, school leaders, and coaches focus on answering each of the four critical questions of a professional learning community so you can be confident you are doing the right work.
This book will help teachers, school leaders, and coaches:
Learn the six actions that help answer each of the four critical questions of a PLC
Create a shared vision among teacher and leadership teams and gain clarity on student mastery of essential standards
Employ meaningful feedback to encourage student self-assessment and ownership of learning
Utilize field-tested prompts, rubrics, and templates to facilitate effective ongoing collaboration
Related Topics
LeadershipProfessional Learning Communities at Work®Professional Learning Communities
---
Additional Information
Product Code: BKG118
ISBN: 9781958590072
Published By: Solution Tree
"Simplifying the Journey is a valuable resource for schools looking to truly do the right work but avoid the trap and pitfall of adding 'one more thing.' This book helps reduce the educational noise for educators and focus on what truly matters, student and educator learning. No matter what your role is in a school, Simplifying the Journey provides practical, meaningful, and doable strategies for educators."
"I loved Simplifying the Journey! It flowed well and had a lot of really good information. It is an interesting and easy read that sounds possible to do. It motivated me to want to put this into motion at my school in hopes that it'll help make life a little easier."
"The processes in Simplifying the Journey are what takes teaching from an overwhelming, often stressful, experience to an experience grounded in research-supporting ideas that are straightforward and attainable. Gaining clarity on the standards and sharing that clarity with the team members create a space where everyone's voice and talents truly shine. As a teacher whose only goal is for my students to learn at high levels, I can't wait to implement each piece of this process and watch my students shine."
"As a school principal, my main job is to help students learn. Simplifying the Journey helps our school do just that. It makes the process easy to understand, with practical tools and examples that teachers and leaders can use immediately."
"Simplifying the Journey provides a clear, easy-to-follow, and effective path for school improvement and success. It isn't one more thing, but rather, is the thing that will ensure high levels of learning for all students. The simple, clear organization provides an achievable road map that results in high-quality learning experiences for students and a strong, collaborative culture for educators."