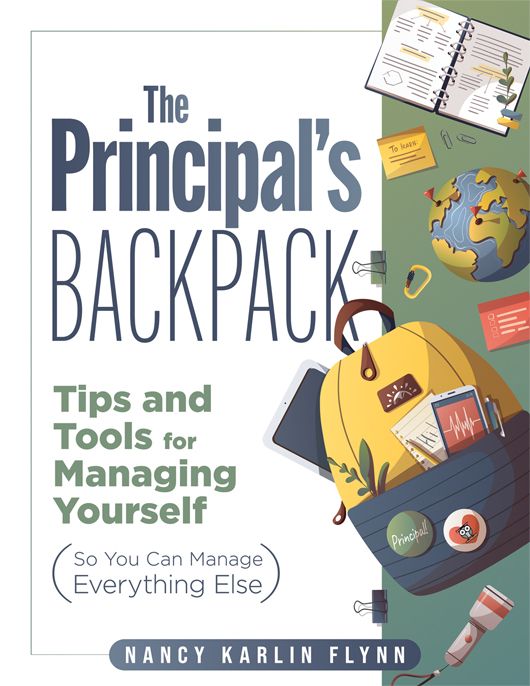 Tips and Tools for Managing Yourself (So You Can Manage Everything Else)
Purposeful self-management is key to being an effective school leader. This experiential memoir offers research-grounded tips and tools for managing yourself—so you can manage everything else. Get organized, find your purpose, know your strengths, reflect, and celebrate. This book will help you do it all.
Become an effective school leader with these tips and tools for essential principal self-care
Principals know all too well the complexities of effective school leadership. To successfully navigate the journey's ups and downs, you'll need to rely on the appropriate gear. In The Principal's Backpack, Nancy Karlin Flynn draws on her background as a hiker and her experience leading schools to provide ways to not only survive but thrive as a school leader.
K–12 principals will:
Create a mental map for health and well-being with tips on getting organized, setting goals, decision making, and finding their purpose
Focus on psychological safety, know the laws, discover their strengths, create a network, and study their boss
Benefit from a wide variety of reproducible templates, handouts, models, paradigms, strategies, inventories, activities, and surveys
Build tactics on self-management and being mindful, staying calm, keeping their balance, using listening skills, expressing themselves, and stretching their limitations
Understand effective, realistic ways to engage in physical and emotional self-care
Learn how to unpack the events of the day by giving themselves some grace, having moments of self-reflection, laughing about it, recharging, and celebrating
Related Topics
---
Additional Information
Product Code: BKG117
ISBN: 9781958590058
Published By: Solution Tree
Page Count: 168
"I love the idea of a principal backpack! This book is chock full of practical tips and strategies, and the author's extensive principal experience really shines through. Both novice and veteran school leaders will benefit from the numerous templates, scenarios, protocols, organizers, surveys, reflection tools, and other resources that are provided. I will be recommending this fantastically useful book to every one of our principal licensure graduates!"

"As a principal, I wish I could've had a book like The Principal's Backpack: Tips and Tools for Managing Yourself (So You Can Manage Everything Else). This book is a guide for new and experienced principals. The Principal's Backpack not only includes information and tips on important skills like staying organized, goal setting, networking, and communicating, but it also includes critical information like learning to unpack your backpack with self-care, grace, and self-compassion. What a great resource for leaders!"

"During this time of volatility and divisiveness, it's so critical that we keep our focus on students and the educators who serve them. This book provides school leaders with practical tools, guidance, and inspiration to do just that! Bravo!"