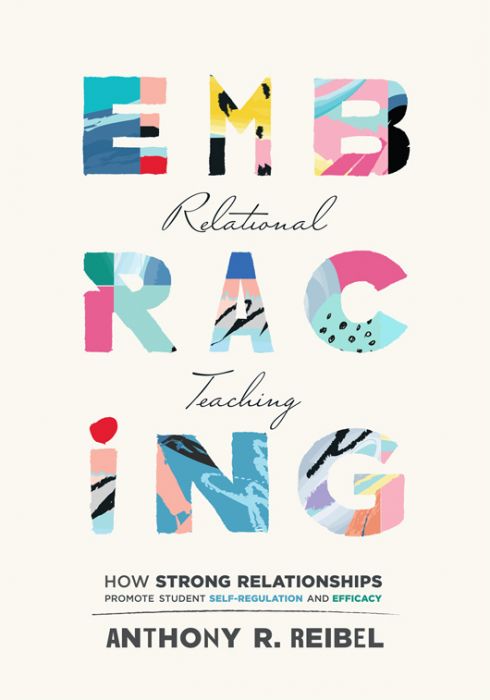 Embracing Relational Teaching
How Strong Relationships Promote Student Self-Regulation and Efficacy
Shifting from transactional to relational teaching empowers students and creates a more engaging classroom environment. This essential guide explores the why behind this shift and shares immediately applicable strategies for K–12 teachers.
Add this eBook to your credit card purchase and gain immediate access.
eBooks are available on desktop, Android, and iOS via Adobe Digital Editions. eBook purchases are limited to one eBook per title, per account. Please visit the eBook FAQ for more information.
Publication date:
Only %1 left
Strengthen student ownership of learning with relational classroom practices
When you shift to relational pedagogy, you establish connections that help students feel valued, respected, and heard, which leads to enhanced student engagement. Author Anthony R. Reibel explores this approach, offering strategies and activities to make everyday interactions, such as instruction, assessment, reflection, and grading, more meaningful through student-teacher relationships. The result is higher levels of social-emotional and academic learning.
This book will help K–12 teachers and administrators:
Understand the meaning of relational pedagogy
Gain the ability to organize curriculum to focus on student-centered learning
Utilize reflection tools to better build relational assessments
Learn to implement observational learning and avoid transactional instructional models
Develop deeper relationships with students
Related Topics
InstructionSocial-Emotional Learning and WellnessStudent Engagement
---
Additional Information
Product Code: BKF949, EKF512
ISBN: 9781949539912
Published By: Solution Tree
"Embracing Relational Teaching is an important read for those who want the very best for their students. Author Anthony Reibel's emphasis on making sure educators focus on students finding meaning and purpose in their learning is truly inspirational. This is a powerful work that challenges conventional thinking to help educators reflect and grow as leaders. I highly recommend it for those who want to improve learning for students and those who serve them."
"Embracing Relational Teaching is full of thoughtful templates, tools, and strategies for placing relationships front and center in daily planning, teaching, and assessment practices. More importantly, this book offers powerful insight into why relational teaching matters to both teachers and learners, and why this approach truly honors the critical teacher-student relationship. Be ready for examples, ideas, and approaches that will shift how teaching and learning is experienced by the people it impacts the most."
"Embracing Relational Teaching is one of the most profoundly refreshing and reflective approaches to educating human beings that I have seen in my career, with the potential to change the lives of both educators and learners. Stop and take time to notice, hear, and validate learners as they become believers in their own competence and agency. This resource reaches beyond the crisis to care and belong, which all students deserve. What a timely gift to education!"
Free Resources
Explore these powerful tools to help reach your goals.