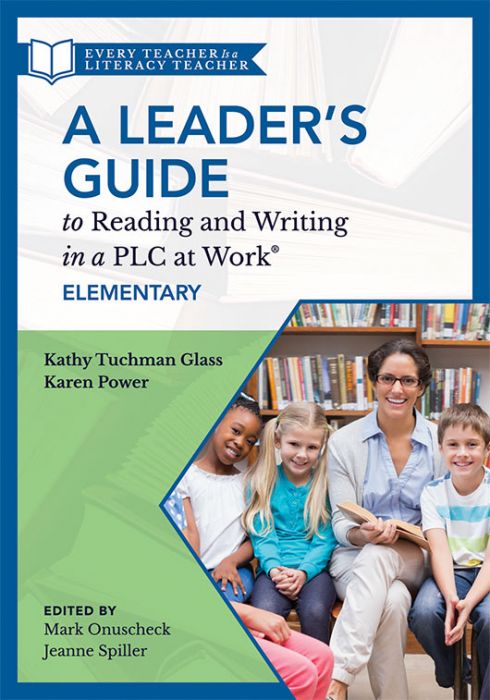 A Leader's Guide to Reading and Writing in a PLC at Work®, Elementary
Aligned to the Every Teacher Is a Literacy Teacher series, this guide outlines how to take urgent action to improve literacy development in a PLC. School leaders will discover how to support elementary teachers in a literacy-focused learning environment that facilitates high-quality instruction and boosts students' reading and writing skills.
Add this eBook to your credit card purchase and gain immediate access.
eBooks are available on desktop, Android, and iOS via Adobe Digital Editions. eBook purchases are limited to one eBook per title, per account. Please visit the eBook FAQ for more information.
Publication date:
Only %1 left
The ultimate guide to leading literacy instruction efforts in an elementary setting.
Confidently lead literacy improvement in your professional learning community (PLC). Aligned to the Every Teacher Is a Literacy Teacher series, this results-focused guide outlines how to take urgent action to address deficiencies and increase literacy rates. Learn how to bring a new level of focus to your teacher teams and help them do the important daily work of ensuring every student successfully reads and writes at or beyond grade level.
Understand the importance and goals of literacy-focused instruction in an elementary setting.
Gain specific suggestions for four types of leaders: (1) district, (2) school, (3) coach, and (4) teacher.
Help collaborative teams emphasize literacy knowledge and reading and writing skills in a curriculum's essential standards.
Create effective data-inquiry practices that inform team decision-making for those who require additional support or extension.
Facilitate high-quality literacy instruction using the gradual release of responsibility framework.
Develop equity in literacy instructional strategies to ensure growth and development for all.
Related Topics
InstructionLeadershipLiteracyProfessional Learning Communities at Work®Professional Learning Communities
---
Additional Information
Product Code: BKF903, EKF466
ISBN: 9781947604957
Published By: Solution Tree
"All leaders who are ready to transform their schools need this book. It provides all the tools leaders need to make the right work of a PLC come alive by combining a plethora of templates, processes, and research-based strategies. With this book, authors Kathy Glass and Karen Power marry the technical side with the human side of an effective PLC and give us a true gift."
"This book is a concise yet comprehensive guide to support leaders in establishing and sustaining effective team processes for high-quality literacy instruction. If you're wondering how to support teacher teams as they collaborate to improve literacy outcomes, this is an indispensable handbook."
"The ability to be a reader and a writer is a civil right for all the students we serve in our school communities. This book provides readers with a deep understanding of the PLC process as the core of our collaborative equity work as teachers and leaders."