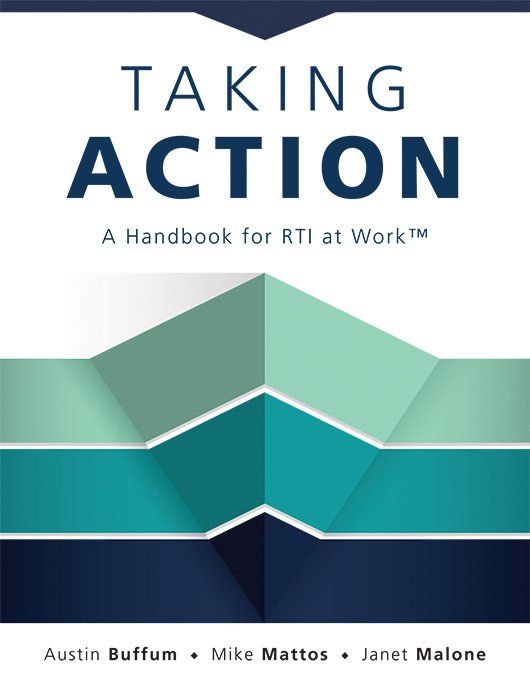 Taking Action
A Handbook for RTI at Work™
This practical implementation guide will teach you the RTI process (or MTSS) and how it can drive continuous improvement and academic success for your school.
Add this eBook to your credit card purchase and gain immediate access.
eBooks are available on desktop, Android, and iOS via Adobe Digital Editions. eBook purchases are limited to one eBook per title, per account. Please visit the eBook FAQ for more information.
Publication date:
Only %1 left
Learn the RTI process of tiered interventions for academic success
Response to intervention or RTI (also known as multitiered system of supports or MTSS) is the most effective process for ensuring student success, using differentiated instruction to provide the time and support necessary. This comprehensive implementation guide covers every element required to build a successful RTI at Work™ system of support in schools. The authors share step-by-step actions for implementing the essential elements, instructional strategies, and tools needed to support implementation, as well as tips for engaging and supporting educators. Readers who valued the practical knowledge in Learning by Doing: A Handbook for Professional Learning Communities at Work™ (DuFour, DuFour, Eaker, Many, and Mattos) will appreciate a similar style and practicality in Taking Action.
This guide will help you incorporate the response to intervention process by allowing you to:
Understand how RTI at Work™ builds on the PLC at Work™ process.
Review the revised RTI at Work™ pyramid and its three RTI tiers.
Learn what roles teacher teams, leadership teams, and schoolwide teams play in a multi-tiered intervention structure.
Understand the differences among intervention, extension, prevention, and enrichment.
Avoid common missteps when implementing RTI (or MTSS).
Consider why an achievement gap remains in 21st century education and how the RTI process can close that gap.
Related Topics
Professional Learning Communities at Work®RTI at Work™
---
Additional Information
Product Code: BKF684,EKF292
ISBN: 9781942496175
Published By: Solution Tree
"In Taking Action, Buffum, Mattos, and Malone take readers on a deep dive into critical questions 3 and 4 of the PLC at Work™ process: How will we respond when some students do not learn? How will we extend the learning for students who are already proficient? Filled with new RTI research, insights, strategies, tips, and templates to assist educators who are at work responding to the learning needs of each student, this handbook is a must-have resource for schools committed to the mission of ensuring high levels of learning for all."
"The RTI at Work™ framework is the perfect bridge for a school that truly wants to cross over the threshold of learning by chance to learning by design. Buffum, Mattos, and Malone demystify the connection between the PLC and RTI process and make an argument for a systemic approach to student support. This book cuts to the chase and provides a logical, well-researched, step-by-step guide. As a former principal, I wish I had a tool like this to guide me through the process of creating systems to support student learning."
"In Taking Action, the authors distill the RTI at Work™ process into clear, essential actions, including the why and how needed to bring the framework to life. This handbook can be used at every level of educational organizations, from a grade-level team to a full school or district system working to ensure all students are achieving at high levels. The practical tools and resources are immediately actionable in building systems of support for students, leading to learning gains for our most at-risk learners."
"Taking Action: A Handbook for RTI at Work™ establishes the why behind the work of intervention before expertly moving to the how. The why compels people to act, but the how provided in this essential handbook removes barriers to these actions. The artifacts, protocols, and reproducibles provided to support and guide the work make this a must-have for schools and teams, whether just getting started or recommitting to 'all really means all' in a continuous cycle of improvement."
"In this book, Buffum, Mattos, and Malone offer an essential resource for schools committed to closing the knowing-doing gap in their RTI journey. They know that RTI isn't simply a bell schedule, a teacher, a program, documentation forms, or (please, no) a new way of determining eligibility for special education. They present both a clear direction and ready-to-use resources for schools and teacher teams that are ready to 'do' RTI in the way it was originally intended—as a natural extension of PLCs. RTI provides schools with the very best chance of delivering on the moral imperative of every single student learning at high levels. No one knows how to deliver on this promise more than the authors of this resource."
"Transforming a school or district does not start with implementing a sequence of tasks but with clarifying the organization's direction-its fundamental purpose." Well said. Don't wait, we know where to start! @mikemattos65 @agbuffum and Janet Malone pic.twitter.com/JpsjuyCLRw

— Casey R. Ahner (@caseyrahner) July 28, 2019
As we celebrate the successful end of one school year and begin the process for planning for another it is a great time to reflect on the importance a culture of collective responsibility plays in student success. #All #Means #All #Taking #Action @SolutionTree pic.twitter.com/REu9QVOpgh

— Paula Rogers (@Tools4Teams) May 30, 2019
⁦@agbuffum⁩ sharing an invaluable tool from Taking Action to guide teams in actions of teaching- assessing cycle. ⁦@SolutionTree⁩ #rtiaw pic.twitter.com/xhBpk9PEro

— Paula Maeker (@PaulaMaeker) January 24, 2019
Are we true students of this important work or are we educators who think by using the terms, acronyms and jargon it makes us look like we know it! These are workbooks friends not shelfbooks! Do you refer to them early and always? @SolutionTree @SolutionTreeAU @SolutionTree_CA pic.twitter.com/rxrH39z14r

— Brian Butler (@bkbutler_brian) February 1, 2019
Building #CollectiveResponsibility with our #GuidingCoalition @GMSBuccaneers #GetOnOurBus pic.twitter.com/dMJIlrBOFV

— Coachinschool-Moore (@teachonvaca) February 13, 2019
We made changes to our intervention/enrichment block after studying these 2 amazing resources! Thank you @SolutionTree @mikemattos65 #atplc pic.twitter.com/bRmrMgfrSh

— Bo Ryan (@bo_PLC) February 18, 2018
Great read! @mikemattos65 remains the guru... https://t.co/igvEPBw9Iz

— Dr. Mark Johnson (@mrjohns12) February 2, 2018
"Break your Tier 2 interventions down by SKILL and WILL." Run, don't walk, to get a copy of this amazing resource if you are looking to take your MTSS to the next level of effectiveness. Even if you are an RtI veteran, this book is seminal. @mikemattos65 #moplc18 pic.twitter.com/ToYa2IdhWZ

— Kelly Vines Nash (@kellyvinesnash) January 30, 2018
Finished this book in ONE night after attending the @SolutionTree RTI at Work Institute...you think I might be a tad inspired? Come on, ask me about it...I dare ya! #RTILikeWhoa #KidsDeserveIt #PrincipalsinAction @momsasprincipal @JHaleyBulldogs pic.twitter.com/SYCi54te2N

— Lindsey Sanders (@lmr0050) January 22, 2018
Some reading between errands today #teamhope @mikemattos65 @SolutionTree pic.twitter.com/HuO2zkRgKq

— Melissa Sepuka (@SepukaMel) January 20, 2018
"Their dreams are so big when they are little. It is our job to make sure their dreams do not get little as they grow big." Ready to return to school and open doors! @SolutionTree #rtiaw pic.twitter.com/5hJA2DAb9O

— Yvette Dumond (@YDumond16) January 18, 2018
Digging deeper into RTI with @SolutionTree #RTIaw #letsdothis pic.twitter.com/fl6o2mimkb

— @FarineFalconsMath (@FarineMath) January 16, 2018
@mikemattos65 is a true Education Giant, Rock Star, G.O.A.T when I­t­ comes to Response to Intervention at Work™. Look what I️ have done to his and @agbuffum and Janet Malone's new book! @SolutionTree #atplc pic.twitter.com/80bn1YuIuf

— Brian Butler (@bkbutler_brian) November 12, 2017
If you want easy to use tools, tips and protocols As well as a compelling reason why All Means All, get it today! Fabulous Book!!! https://t.co/p935RnxTRB

— Brian Butler (@bkbutler_brian) November 5, 2017
Look what arrived today in the mail! I'm fired up! Time to get better! Thank you @SolutionTree @mikemattos65 @agbuffum #atplc pic.twitter.com/s3ChZIEEc5

— Bo Ryan (@bo_PLC) September 30, 2017
A must read! Clarity on the essential actions needed to ensure high levels of learning for every student! #rti #plc #PascoMTSS https://t.co/JisrIZGUx9

— Vanessa Hilton (@vhilton1) September 29, 2017
"Break your Tier 2 interventions down by SKILL and WILL." Run, don't walk, to get a copy of this amazing resource if you are looking to take your MTSS to the next level of effectiveness. Even if you are an RtI veteran, this book is seminal. @mikemattos65 #moplc18 pic.twitter.com/ToYa2IdhWZ

— Kelly Vines Nash (@kellyvinesnash) January 30, 2018