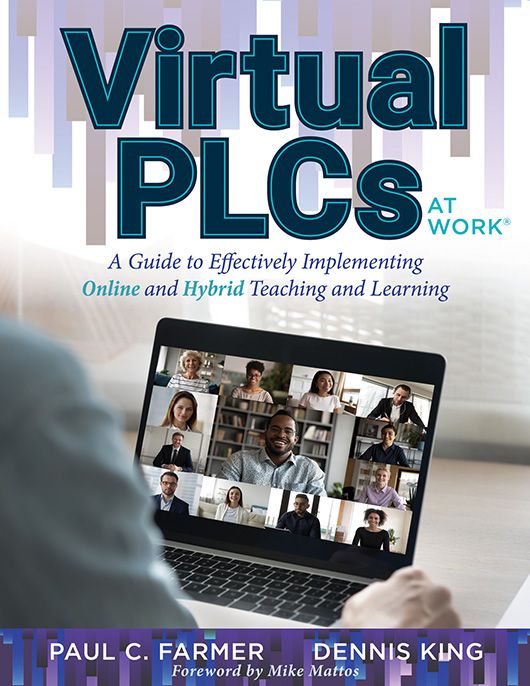 A Guide to Effectively Implementing Online and Hybrid Teaching and Learning
Explore an abundance of tools, tips, and best practices for remote teacher collaboration in virtual professional learning communities. Learn how to implement online professional learning communities in a way that maintains the power of the PLC process to ensure learning for all.
Add this eBook to your credit card purchase and gain immediate access.
eBooks are available on desktop, Android, and iOS via Adobe Digital Editions. eBook purchases are limited to one eBook per title, per account. Please visit the eBook FAQ for more information.
Publication date:
Only %1 left
Tools, tips, and best practices for virtual professional learning communities
Virtual teaming and virtual learning have been practiced for decades but never to the level required today. As the educational landscape continues to evolve, ensure your PLC evolves right along with it. With this resource from Paul C. Farmer and Dennis King as your guide, you'll explore an abundance of tools and tips for maintaining your PLC structures along with proven best practices to help instruction and learning thrive beyond the four walls of your school.
A book on implementing online professional learning communities for teachers and administrators:
Receive an overview of the PLC process and understand how all educators fit into it.
Learn how to implement each step of the PLC process virtually.
Address the four pillars of a PLC—mission, vision, values, and goals—in a virtual context.
Develop and maintain an ideal school culture in a virtual environment with online teacher communities.
Acquire strategies to strengthen every student's virtual or blended learning experience with the PLC process.
Related Topics
LeadershipProfessional Learning Communities at Work®Professional Learning CommunitiesTechnology
---
Additional Information
Product Code: BKG028, EKF590
ISBN: 9781952812651
Published By: Solution Tree
"The shift to a virtual world was accelerated—not created—by the COVID-19 pandemic. While some educators might hope for things to get back to 'business as usual,' working virtually has become the usual way we do business. This means if our students are going to learn the skills and behaviors needed to succeed in a virtual world, then educators must continue to develop the skills needed to teach, collaborate, and excel in this space. That is the purpose of this outstanding book!"
"This accessible and adaptable book is both timely and timeless; it addresses what educational leaders need to know for the difficult pivots during the COVID-19 pandemic and provides a foundation that demonstrates how collaborative teams can continue to be the engine of improvement regardless of setting—in person, hybrid, or virtual."