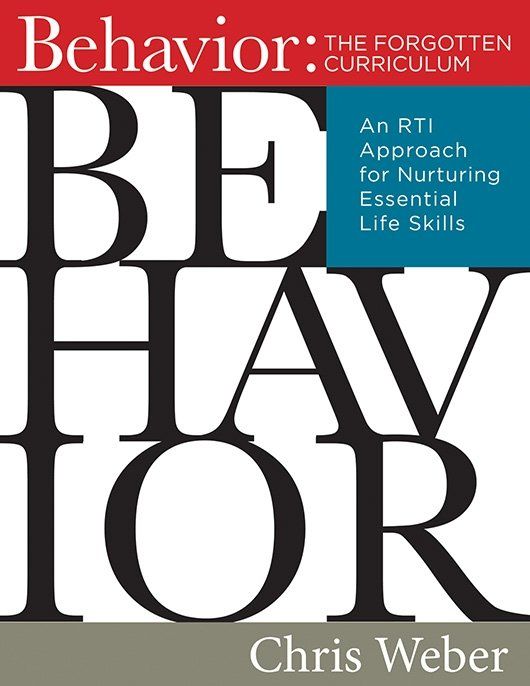 Behavior: The Forgotten Curriculum
An RTI Approach for Nurturing Essential Life Skills
Transform your classroom behavior-management strategies to teach students critical behavioral skills. Learn how to implement research-based instructional strategies for differentiation and assessment of student behavior using the RTI (MTSS) model.
Add this eBook to your credit card purchase and gain immediate access.
eBooks are available on desktop, Android, and iOS via Adobe Digital Editions. eBook purchases are limited to one eBook per title, per account. Please visit the eBook FAQ for more information.
Publication date:
Only %1 left
Use RTI tiers to transform your behavioral-management, differentiated instruction, and assessment strategies.
To fully prepare students for college, careers, and life, it is essential for educators to nurture students' behavioral skills along with their academic skills. With Behavior: The Forgotten Curriculum, you will learn how to employ the most effective behavioral and social skills activities for your particular class and form unique relationships with each and every learner. Through this personalized classroom behavior-management approach, you can anticipate potential problem areas and confidently respond to students in need of intensive and differentiated supports.
Use behavior-management strategies based on response to intervention to:
Understand the importance of communicating the why of behavioral learning to students
Identify and define the behavioral skills that will most benefit your students
Model and teach behavioral skills simultaneously with academic skills
Learn how and when to employ behavioral system supports across all three RTI tiers (MTSS)
Implement formative assessment and other tools for measuring behavioral-skill development and success
Hear from educators who have successfully applied behavioral-skill teaching in their classroom-management strategies
Related Topics
Classroom Management & BehaviorResponse to Intervention
---
Additional Information
Product Code: BKF828, EKF422
ISBN: 9781943874323
Published By: Solution Tree
"Chris Weber's six steps of behavioral RTI are clear, concise, and easy to implement, and every educator will benefit from the explicit instruction and subtle integration of specific behavioral skills into their instructional framework. This is a sure formula for enriching the lives and relationships of both students and teachers."
"Utilizing his years of experience implementing RTI and MTSS in schools across the country, Weber masterfully lays out a road map to help districts develop the whole child. This book will truly assist educators in creating students with the skills to navigate the obstacles and opportunities in store for them, both inside and outside the classroom."
"If a student lacks a basic academic skill, any educator would commit to meet the student at his or her current entry point and structure the learning from there. Why, then, does a different approach emerge when the gap is in a basic behavioral skill? In Behavior: The Forgotten Curriculum, Chris Weber outlines six core steps all educators can follow to ensure behavioral and academic gaps are addressed in a similar fashion."
"Behavior: The Forgotten Curriculum promises to help us, as educators, nurture life skills in our students—and that is exactly what it does! Chris Weber's student-centered approach is both invigorating and inspiring. A breath of fresh air for RTI!"