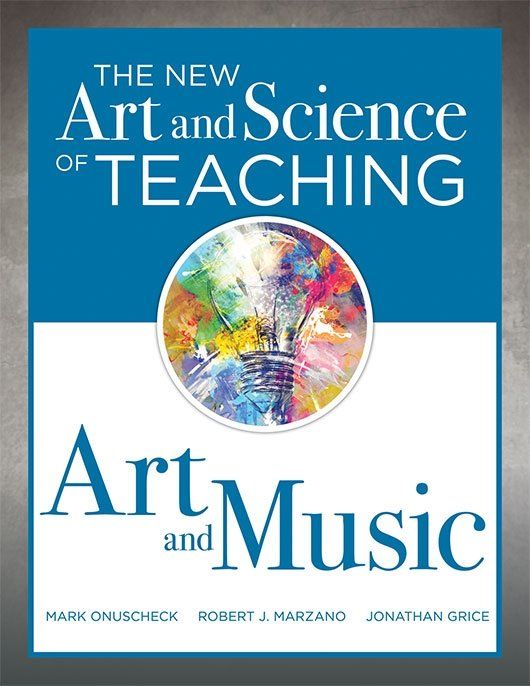 The New Art and Science of Teaching Art and Music
Discover art- and music-specific instructional strategies built on the foundation of The New Art and Science of Teaching framework. Teach technical skills alongside artistic development to support students' portfolios, repertoires, and creative expression.
Effective teaching strategies designed for music and art education
Ensure your art and music programs thrive with the support of The New Art and Science of Teaching Art and Music. Built on the foundation of Robert J. Marzano's New Art and Science of Teaching framework, this research-based book for art and music teachers outlines music- and arts-based teaching strategies. Rely on the book's myriad strategies to enhance your daily practice and promote the artistic expression, creative growth, and critical thinking skills of every student.
Use this art and music education book to establish effective teaching strategies that inspire creative and technical skills:
Explore a model for strengthening instructional strategies for art and music.
Understand which elements of instruction are best suited to teaching art and music and utilize the specific suggestions and techniques for implementing these elements.
Receive time-tested strategies and ideas to improve teaching and learning in art and music classrooms.
Examine teaching methods for increasing student engagement in art and music programs.
Confront the unique challenges found in art and music education and feel inspired to collaborate with other teachers to continuously improve fine or creative arts programs.
A joint publication of ASCD and Solution Tree
Related Topics
---
Additional Information
Product Code: BKF817
ISBN: 9781945349805
Published By: Solution Tree
Page Count: 168
"I've been a fan of Robert Marzano's work since The Art and Science of Teaching demystified what good teaching looks like. With this book, Onuscheck, Marzano, and Grice turn their attention to the unique teaching methods inherent in art and music instruction. Balancing research about effective instructional practice with the art of teaching, this book is truly a gift to those of us in the arts education field."
"The New Art and Science of Teaching Art and Music by Mark Onuscheck, Robert Marzano, and Jonathan Grice is a gem. It would be impossible to consume the content of this book and not come away a far better teacher. The authors have made certain there isn't a stone unturned, and we are the beneficiaries of their extensive and definitive writing. A quote from the authors: 'Our greatest hope is that this book will help art and music teachers collaborate more effectively around the unique challenges they confront.' To be certain, their mission was accomplished and much, much more! This is a book to read, to study, to reread, and to integrate the wisdom of its pages into every aspect of our teaching journey."
"Marzano's work on instruction, classroom management, and assessment, which was brought together in a comprehensive model in The Art and Science of Teaching, has been a mainstay for a generation of teachers and administrators. In my experience, it has been too often dismissed by arts educators as something that 'doesn't really apply to us' because 'we're different.' Whether intended for teacher coursework, a faculty book read, or individual study, this newest volume fills that perceived gap by taking Marzano's framework and providing concrete examples to each element of the model in a way that is practical and meaningful for advancing the quality of teaching in the art and music classroom."