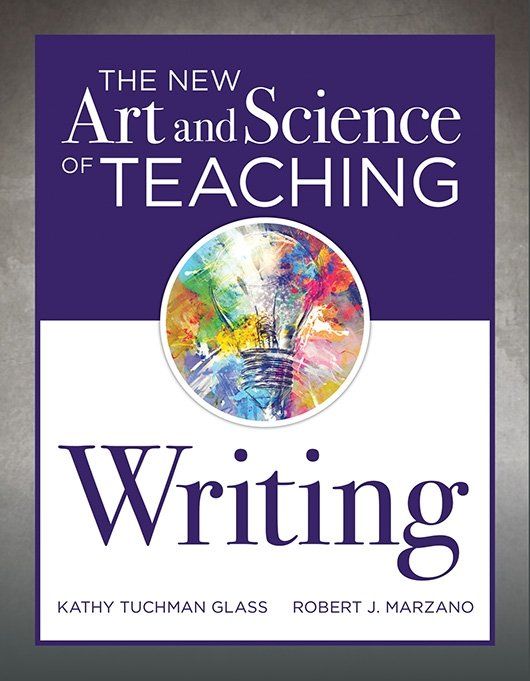 The New Art and Science of Teaching Writing
Using a simple structure, Kathy Tuchman Glass and Robert J. Marzano apply the instructional strategies of The New Art and Science of Teaching to teaching and assessing writing skills, as well as some associated reading skills. With more than 100 categorized and organized strategies across grade levels and subjects, this book will help you address writing learning outcomes needed for student success.
Research-based instructional strategies for teaching and assessing writing skills
For educators to be effective, they must intentionally select and implement research-based instructional strategies and conduct assessments. Using a clear and well-organized structure, the authors apply the strategies and techniques originally presented in The New Art and Science of Teaching by Robert J. Marzano to the teaching and assessing of writing skills. The book explores more than 100 instructional strategies across grade levels and subject areas for writing, as well as some reading instruction.
Use effective teaching methods to reach desired writing learning outcomes and student success:
Understand which instructional strategies are best suited to teaching writing skills, and gain specific examples for implementing these strategies.
Learn how to utilize general and specific strategies to improve the learning environment of the classroom and obtain desired student learning outcomes for writing.
Fine-tune your writing curriculum to achieve student success by developing and assessing writing skills with the book's instructional techniques.
Examine samples of writing rubrics, proficiency scales, and checklists, and learn effective teaching methods to use them as assessment and instructional tools.
Utilize an advance organizer as a quick reference of all strategies to assist you in designing writing curriculum and planning lessons.
Access and download free reproducible activities, rubrics for assessing student writing, writing assessment examples, writing checklists, and more for classroom use.
A joint publication of ASCD and Solution Tree
Related Topics
InstructionLiteracyStudent Engagement
---
Additional Information
Product Code: BKF796
ISBN: 9781945349362
Published By: Solution Tree
Page Count: 192
"Being an avid supporter of instructional framework, I was elated to read The New Art and Science of Teaching Writing . This book is filled with detailed examples and helpful tools to assist teachers in producing more powerful writing results with students. Glass and Marzano skillfully show the reader the explicit connection between writing instruction and the overarching categories of feedback, content, and context—the backbone of Marzano's instructional framework. We have used the framework as our model of instruction for several years and were anxiously awaiting the series on subject-related connections. The content of this book will be extremely helpful to teachers by adding specific writing content connections with their unit planning and day-to-day instructional practices. I look forward to learning from the other books in this series. Keep them coming!"
"Glass and Marzano offer practical and straightforward writing strategies that fit smoothly into the lesson- and unit-planning process and are easy to implement in the classroom to support effective literacy instruction.

"If you are familiar with the previous editions of The New Art and Science of Teaching you will appreciate the specificity this text provides with its inclusion nearly one hundred purposely selected writing strategies solidly embedded in the forty-three elements chosen to maximize student learning.

"As an educator who works with educators The New Art and Science of Teaching Writing is a book I will keep on hand, not on my shelf, and use often to simplify the process of finding the right strategy to fit the right lesson."
"This book is an invaluable resource to any K–12 teacher designing instruction and assessment in writing. By connecting the elaborate and massive task of writing instruction with Marzano's instructional framework, Glass and Marzano have provided educators with details for every stage of writing instruction, suggesting instructional strategies specific to each element of teaching. Whether a teacher is taking on the task of designing entire units of instruction in writing or focusing on specific elements of writing instruction, this book provides detailed insights that will help teachers deliver effective, high-quality instruction in writing. In addressing every aspect of writing instruction, from the basic elements of good writing through the context in which writing instruction occurs, Glass and Marzano inspire educators to examine and develop their practice in teaching writing."
"The New Art and Science of Teaching Writing scaffolds instructional best practices in such a way that allows for teachers to be responsive to individual student needs. Personalizing student learning can be a challenge for secondary instructors, and this book helps teachers feel comfortable in analyzing formative data and implementing writing instruction in ways that will help all students develop as writers. By focusing on teacher actions and student mental states and processes, educators will be able to isolate areas in their teaching practice—whether feedback, content, or context—and prioritize each student's next step in the writing process, even when those are highly varied within a classroom.

"What I appreciate about this book is that it easily lends itself to teachers receiving feedback on their practice through instructional coaching cycles with mentors or peers, SLO/PPG cycles, or Educator Effectiveness cycles. It breaks down the teaching of writing in a process approach, similar to how instructors would teach the different stages of the writing process to their students. Through teacher self-rating scales, guiding questions for curriculum design, and ready-to-use student templates, the book not only helps teachers reflect philosophically, but it prepares them with tools and courses of action to apply strategies that will foster student growth in writing. After reading this book, whether a new teacher or a veteran, one will feel equipped to build skill sets and empowered to inspire passion in future generations of writers."