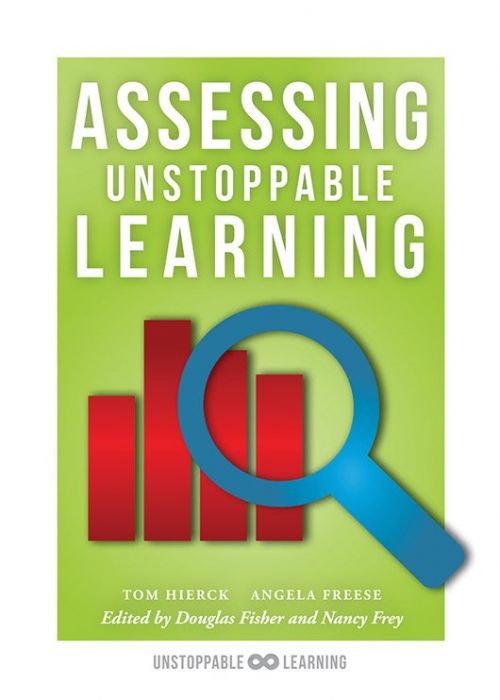 Assessing Unstoppable Learning
This title focuses on the element of assessing in the Unstoppable Learning model and offers step-by-step actions for reworking your assessment systems.
Assessing Unstoppable Learning
The Unstoppable Learning model includes seven elements—(1) planning, (2) launching, (3) consolidating, (4) assessing, (5) adapting, (6) managing, and (7) leading. This user-friendly resource focuses on the assessing element, giving readers crucial protocols and activities for collectively reworking their assessment systems. By implementing the step-by-step actions shared by the authors, educators can prepare themselves and their students to thrive in 21st century classrooms and beyond.
Reflect on the collaborative nature of your learning organization and what elements of it are within your control.
Consider questions to focus your work on generating high levels of student achievement.
Complete activities with teammates to discuss how to better promote productive systems thinking using the book's strategies.
Gain guidance for leaders, as well as for teams, to embed evidence-based practices throughout the organization.
Access protocols for effective team discussions.
See the other books in the Unstoppable Learning series
---
Additional Information
Product Code: BKF735
ISBN: 9781943874231
"In Assessing Unstoppable Learning, Hierck and Freese have combined the very best of systems thinking, collaborative practices, and assessment literacy to create a user-friendly framework for all educators. Their use of scenarios, protocols, and pointed questions help educators explore best practices and identify immediate actionable steps on the path to using assessment as learning."
"Assessing Unstoppable Learning focuses on the processes educators use to interpret assessment results and use them to improve student learning. Strengths of this book include an emphasis on systems thinking, the use of strategic questions to support assessment conversations, and the insistence that assessment results that do not lead to actions waste teacher and student time and energy. Readers of this book will be convinced that assessment does not end when the test is scored. Rather, the work with colleagues and students is just beginning!"
"Assessing Unstoppable Learning has been an invaluable resource for our school's PLC journey. We have worked for several years to improve our collaborative team meetings to include healthy emotional dynamics as an integral part of the PLC process that can sometimes cause anxious feelings for team members. We have used the book's chapter on building trust and healthy relationships to improve team dynamics by connecting all members, thus allowing us to focus on our team commitments to assessing our students' learning."
"Assessing Unstoppable Learning artfully reminds readers that assessment is not simply a clinical exercise in gathering data. Through the combination of sound assessment theory, practical templates and strategies, as well as compelling stories that humanize the assessment process, this book seamlessly aligns the assessment processes of design, the elicitation of evidence, the accurate interpretation of that evidence, and the learning-focused responses necessary for students to maintain a growth trajectory. With the addition of chapters that examine both the importance of healthy relationships and systems thinking, sound assessment fundamentals are contextualized as essential to creating the optimal conditions for maximizing student success."
Explore these powerful tools to help reach your goals.