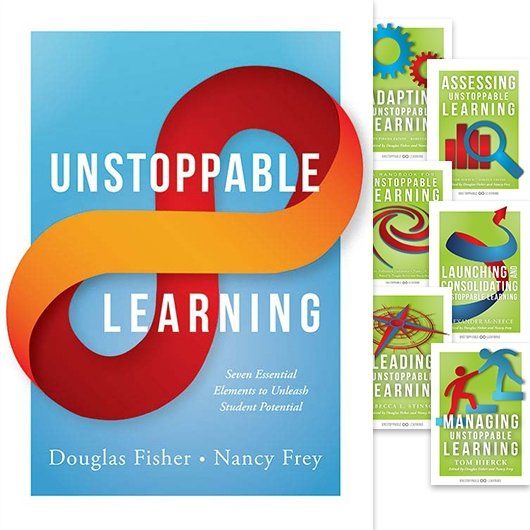 Unstoppable Learning Series
Create the best possible learning outcomes for students using a cohesive, student-centered learning framework. Examine Douglas Fisher and Nancy Frey's Unstoppable Learning instructional model from the planning stages to sustained school improvement.
Support student-centered learning system-wide
Create the best possible learning outcomes and experience for students with the guidance of the Unstoppable Learning book series. Designed by acclaimed experts Douglas Fisher and Nancy Frey, the Unstoppable Learning framework outlines how to cohesively implement seven essential elements of high-quality teaching and learning: (1) planning, (2) launching, (3) consolidating, (4) assessing, (5) adapting, (6) managing, and (7) leading.
Use this cohesive framework to implement student-centered learning and drive academic achievement:
Use the seven elements of the Unstoppable Learning model to better understand the big picture of education and the intricate relationships that impact classrooms.
Closely examine classroom management strategies for addressing student behavior and building a positive school culture.
Consider differentiated instruction and classroom scenarios that increase participation and intrinsic motivation for students during a lesson launch.
Learn how to adjust curriculum in ways that maintain appropriate learning targets and levels of rigor for all students.
Acquire crucial protocols and activities for collectively reworking your assessment systems.
Study the critical characteristics of educational leadership within the Unstoppable Learning instructional model.
Included in the Unstoppable Learning Series:
Related Topics
---