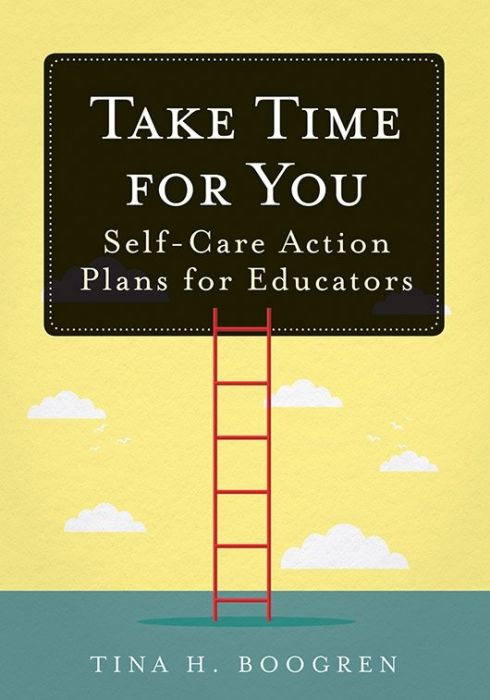 Take Time for You
Self-Care Action Plans for Educators
Create an individualized self-care plan based on Maslow's hierarchy of needs. This book provides doable wellness and self-assessment activities and reflection questions for teachers and educators.
Add this eBook to your credit card purchase and gain immediate access.
eBooks are available on desktop, Android, and iOS via Adobe Digital Editions. eBook purchases are limited to one eBook per title, per account. Please visit the eBook FAQ for more information.
Publication date:
Only %1 left
Self-Care Activities and Action Plans for Teachers and Educators Using Maslow's Hierarchy of Needs and Positive Psychology
The key to thriving, as both a human and an educator, rests in mindfulness, reflection, and daily self-care activities. With Take Time for You, you will discover a clear path to well-being by working through Maslow's hierarchy of needs: (1) physiological, (2) safety, (3) belonging, (4) esteem, (5) self-actualization, and (6) transcendence. The author offers a range of manageable research-based strategies, self-care surveys, and reflective teaching questions that will guide you in developing an individualized self-care plan.
Embrace imperfection as you develop your own self-care plan:
Understand the challenges to mindfulness for teachers and how Maslow's hierarchy of needs comes into play in your personal and professional life.
Design action plans so you can meet your own physiological, safety, belonging, esteem, and self-actualization needs and, finally, transcend and connect with something greater than yourself.
Take surveys and perform a daily time audit to determine how well you are meeting each of your needs.
Use the journaling space and self-reflection questions provided throughout the book to reflect on your implementation efforts.
Related Topics
Educator WellnessInstructionSchool CultureSocial-Emotional Learning and WellnessTeacher Efficacy
---
Additional Information
Product Code: BKF813, EKF406
ISBN: 9781945349713
Published By: Solution Tree
Page Count: 152
"Take Time for You recognizes that research-based educational strategies and pedagogy depend on the teacher's wellness. . . . This essential resource helps teachers take care of themselves so they can take care of their students."
"Tina Boogren has written a useful and effective workbook, based on Maslow's hierarchy of needs, to help teachers reduce stress and promote self-growth. Incorporating the author's personal experiences, it will benefit all who take time to do the helpful activities."