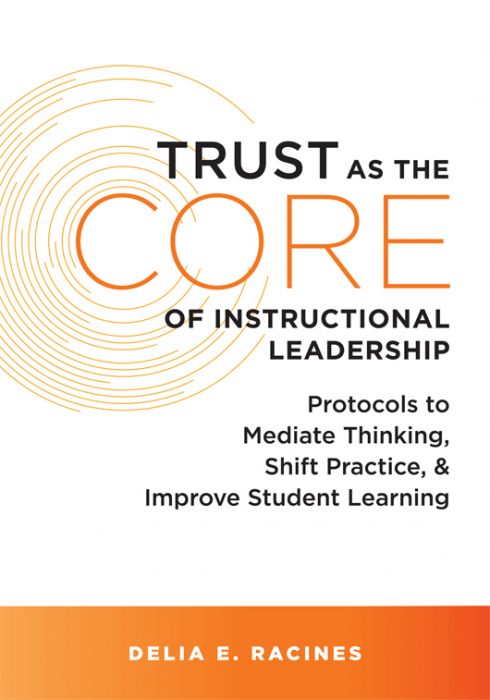 Trust as the Core of Instructional Leadership
Protocols to Mediate Thinking, Shift Practice, and Improve Student Learning
Take the worries and guesswork out of instructional leadership by implementing research-based protocols to build a community of trust and create a collaborative learning environment.
Add this eBook to your credit card purchase and gain immediate access.
eBooks are available on desktop, Android, and iOS via Adobe Digital Editions. eBook purchases are limited to one eBook per title, per account. Please visit the eBook FAQ for more information.
Publication date:
Only %1 left
Your go-to resource for powerful, research-based protocols to support instructional leadership
Be visible and approachable. Unpack necessary conversations with care. Build capacity based on strengths. Author Delia E. Racines offers these powerful protocols and more to support instructional leaders in building a community of trust in which positive change can occur. All current and aspiring instructional leaders ready to work collaboratively to improve teaching and learning will value this book.
Instructional leaders will use this essential guide to:
Understand the importance of fostering trust and competence across all relationships within their school
Utilize a wide variety of reproducibles for both team building and personal reflection
Dive into Educator Spotlights that provide unique perspectives on chapter tools
Strategize for effective goal setting and achievement
Become more intentionally present as leaders
Related Topics
---
Additional Information
Product Code: BKG047, EKF609
ISBN: 9781951075545
Published By: Solution Tree
"Trust as the Core of Instructional Leadership is everything I value as a school leader. Placing instructional coaching within our daily interactions offers a skill set for building authentic trust and fostering a dynamic, learner-centered school environment. Delia Racines's book is the piece that was missing in my work with aspiring school leaders, and it provides concrete practice in the field and aligned self-reflection for deeper adult learning."
"Delia Racines's knowledge, experience, and in-depth research demonstrate that she is a thought leader within the education sector. She delivers comprehensive information brilliantly, articulating systems and strategies that are certain to strengthen communication, inspire trust, and drive change. This book needs to be in the hands of every educator!"
"As educational leaders we play many roles, including, but not limited to, instructional leader, listener, communicator, and facilitator. In Trust as the Core of Instructional Leadership, Delia Racines offers solution-oriented leaders key foundations and research-based tools to guide them through five principles of establishing trust to support schools. These principles of trust are essential to shift our thinking of what trust is and how we can successfully build it within our school teams."
"Shifting practice for the better requires a certain vulnerability. In Trust as the Core of Instructional Leadership, Delia Racines not only invites that vulnerability and gives it a place of value but anchors it to a plethora of resources and ideas for professional reflection, which leads to the development of best practices for student success."