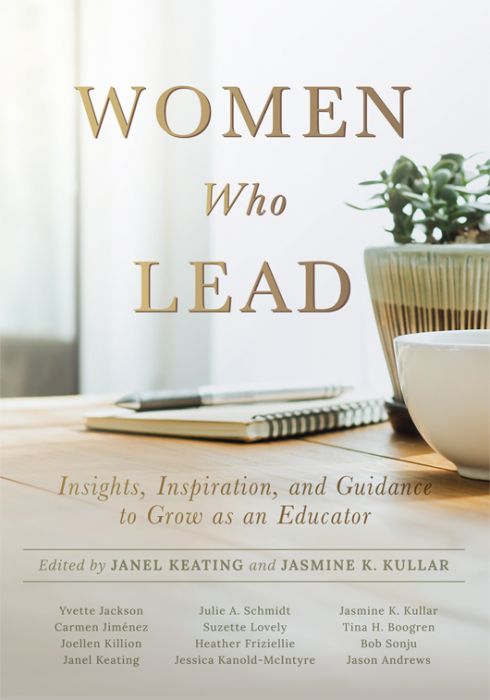 Insights, Inspiration, and Guidance to Grow as an Educator
Women Who Lead offers insight and strategies on effective women in educational leadership practices and how to nurture your professional growth in this male-dominated field.
Add this eBook to your credit card purchase and gain immediate access.
eBooks are available on desktop, Android, and iOS via Adobe Digital Editions. eBook purchases are limited to one eBook per title, per account. Please visit the eBook FAQ for more information.
Publication date:
Only %1 left
Your blueprint on how to promote gender equality in educational leadership and end the broken rung once and for all
Get motivated by this collection of voices from women in leadership and their allies. Janel Keating and Jasmine K. Kullar gather a wide variety of educational leaders to focus on effective leadership practices as they relate to women, the roadblocks and complications women face in professional advancement, and strategies for lifting off the sticky floor and breaking the glass ceiling.
Aspiring educational leaders and current leaders seeking professional growth will:
Gain insight into the unique challenges faced by women in education as well as strategies for overcoming them
Focus on the importance of mentoring and building up the next generation of female leaders
Obtain tools to better advocate and self-market for the next career move
Receive compassionate advice on implementing self-care strategies to avoid teacher burnout
Cultivate confidence in women's leadership and advance successful schools
Related Topics
---
Additional Information
Product Code: BKF991, EKF554
ISBN: 9781951075811
Published By: Solution Tree
"The authors provide a timely and much-needed focus on women in leadership. Men and women alike can benefit from the collective wisdom of these talented and highly successful leaders. This is a how-to, must-do, and can-do resource that should be an essential volume in every leader's library."
"From the moment I read the foreword by Becky DuFour's daughter to the closing chapter written by male allies with their lessons learned from women, I was captivated. Each chapter's personal stories resonated with my own stories of leadership, creating such a connective experience. It's a must-read for any woman serving—or aiming to serve—in a leadership role. I'm honored to have read it; I'm honored to share it."
"This book is a beacon of hope. It is full of practical gems to inspire women and those who support them to take immediate action so that more women achieve leadership roles in education."
"In Women Who Lead, Keating and Kullar have convened a pantheon of daring leaders to address the specific obstacles women face as leaders of learning. Wherever you are in your leadership journey, this book will encourage you, strengthen you, and help you become more effective."
"Women Who Lead made me feel seen as a wife, mother, and instructional leader and reignited my passion for leading in education. The targeted moments of reflection throughout the book allowed me to re-center my purpose and filled me with a sense of empowerment. As women, we face unique challenges on the path to finding our true leader from within. Women Who Lead sets the stage to unlocking our full potential. It is simply a must-read."
"Women Who Lead is a wonderful collection of essays that provides practical advice, prompts for self-reflection, and inspirational stories. There is something here for any woman educator who is interested in taking the next step in leadership. A valuable, readable resource."