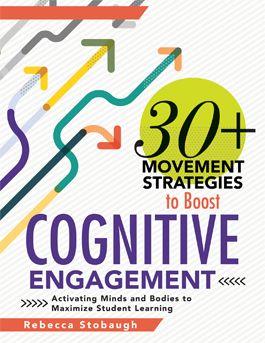 30+ Movement Strategies to Boost Cognitive Engagement
Activating Minds and Bodies to Maximize Student Learning
Discover the joy and power of truly embodied learning. This book of instructional strategies by best-selling author Rebecca Stobaugh helps K–12 teachers create a culture of engagement that is not only fun for students and teachers alike but also effective in making the learning stick.
Add this eBook to your credit card purchase and gain immediate access.
eBooks are available on desktop, Android, and iOS via Adobe Digital Editions. eBook purchases are limited to one eBook per title, per account. Please visit the eBook FAQ for more information.
Publication date:
Only %1 left
Instructional strategies that integrate movement in the classroom to maximize student engagement
Research shows student movement in the classroom is integral to improving cognitive engagement. But how do you integrate movement and instruction seamlessly and effectively? Author Rebecca Stobaugh guides the way with research-backed strategies utilizing classroom design, class climate, and classroom management. Explore a variety of ways to reimagine your teaching practices and get your students moving while they are actively learning.
This book will help K–12 educators:
Implement movement-based activities to improve student engagement
Create a classroom climate that models safety and belonging for all students
Utilize various strategies for students to participate in pairs, groups, and teams
Understand the research behind cognitive engagement and embodied learning
Explore the concept of movement integration in the classroom
Related Topics
21st Century SkillsInstructionStudent Engagement
---
Additional Information
Product Code: BKG103, EKF648
ISBN: 9781954631755
Published By: Solution Tree
"A fresh take on engagement that focuses on movement and differentiation! Rebecca Stobaugh's book elevates well-known strategies by showing teachers how to adapt them for their grade level, content area, and diverse student populations. This is your guide to creating an active learning environment that engages all students."
"30+ Movement Strategies to Boost Cognitive Engagement offers helpful tools for teachers to engage students who have grappled with COVID-19 and the challenges of virtual learning. The movement-based strategies in this book equip students with diverse needs to embrace cognitively demanding tasks."
"All teachers, no matter their subject area, will benefit from the wealth of strategies in this book. Stobaugh's biggest strength is in crafting real-world examples that show readers how to customize active learning for their particular context."