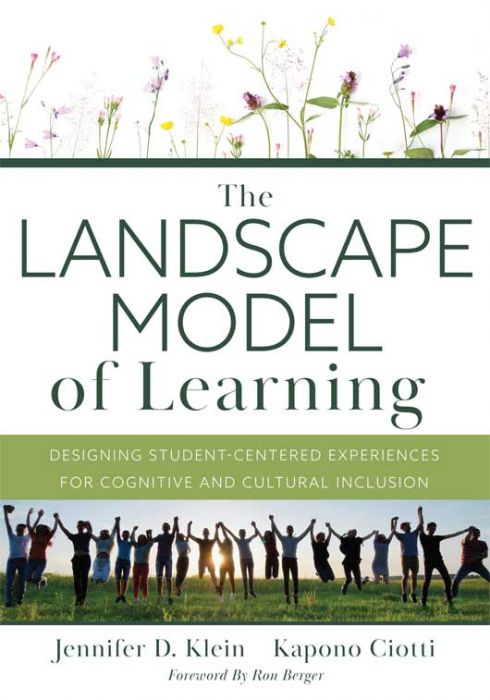 The Landscape Model of Learning
Designing Student-Centered Experiences for Cognitive and Cultural Inclusion
Implement culturally responsive teaching and improve your school culture. By applying the research-based teaching strategies found in this essential guide, you will learn how to create a more meaningful and inclusive learning ecosystem.
Add this eBook to your credit card purchase and gain immediate access.
eBooks are available on desktop, Android, and iOS via Adobe Digital Editions. eBook purchases are limited to one eBook per title, per account. Please visit the eBook FAQ for more information.
Publication date:
Only %1 left
Research-based teaching strategies for DEI and school improvement
Help students take the lead on reaching their personal highest level of success by shifting from the current paradigm of education. This essential guide offers the landscape model and its three elements: understanding what students bring to the ecosystem, defining the horizon, and charting the pathway. Access practical strategies for drawing on students' experiences and strengths to create a more meaningful and inclusive educational ecosystem.
Educators committed to lifelong learning, diversity, equity, and inclusion will:
Retire the inadequate goal of access and move education toward the higher and more urgent, equitable goal of helping every student reach their highest possible level of individual success
Embrace the concept of inclusive prosperity, which goes beyond diversity to accepting and supporting all students—their experiences, gifts, and challenges—to build communities where all students belong and thrive
Receive practical, research-based strategies for developing agency and engagement so that students become the protagonists of their own journeys through the learning ecosystem
Design systems for student protagonism by implementing student-centered strategies for cognitive and cultural inclusion
Obtain reproducible tools to deepen understanding and implementation of the material
Learn how to successfully implement the model despite common hurdles and potential challenges, such as traditional academic contexts and economically disenfranchised schools
Related Topics
---
Additional Information
Product Code: BKG043, EKF605
ISBN: 9781952812958
Published By: Solution Tree
Page Count: 304
"A remarkably inventive approach to how schools can move forward in our increasingly complex times, The Landscape Model of Learning is a must-read for educators. By casting out an ingenious planning trifecta of the ecosystem, the horizon, and the pathway, Jennifer D. Klein and Kapono Ciotti not only inspire dynamic possibilities for our modern students but genuinely generate fresh thinking on how to reimagine our systems, goals, and learning programs. Professionals seeking transformations, whether in small steps or bold moves, should consider integrating the practical ideas and solutions these exceptional authors espouse."
"Klein and Ciotti have written a book that is both an education manifesto and a practical handbook. The Landscape Model of Learning offers a new vision for education while providing specific steps for implementation and recommendations for leadership. Highly recommended!"
"Efforts to reimagine education tend to focus on how adults operate within the schoolhouse. Gifted educators Jennifer D. Klein and Kapono Ciotti focus instead on learners, valuing their assets, interests, experiences, and aspirations as drivers of more meaningful education. The Landscape Model of Learning challenges readers to chart their own path toward the future that all students deserve."
"In The Landscape Model of Learning, the authors set high expectations for student learning. They speak from experience and a deep sense of commitment to student learning in its richest form. . . . This is a must-read for all educators."
"The role of educators is to believe in our students' potential for growth and help them navigate the path there. The Landscape Model of Learning provides a unique look into how educators can begin this journey of helping students take responsibility for and create their own learning."